Save $10,000 in a year by following these simple saving tips. We've compiled some of the best possible ways for you to save money and it won't take long before your savings account has grown to $10,000!
What would you do with an extra $10,000? I bet the ideas are flooding your mind right now! I'm here to tell you that it's possible to save up this amount in just a year. It might take some discipline and patience, but you can save up to 10 grand in just 52 weeks. Just follow these smart steps.
How To Save $10,000 In A Year
I'll be honest, saving up 5 figures in a year will take some dedication and focus. There are so many things that are tempting to spend your money on – and others that are necessary purchases.
These are the most valuable tips that work for me – I know they can help you too.
#1 Set Goals And A Budget
The very first step is going to be to identify why you are doing this. What is your ultimate goal? Put this somewhere visible. As you get through the year, you'll be tempted to spend your savings. You need to refer to your goals so you stay focused and disciplined.
Part of setting your goals is establishing a budget. In order to save $10,000 in a year, you'll have to put about $834 into savings each month. Before you try to figure out how you are going to do that, you need a basic budget in place so you know where your money goes each week.
I have several resources to help you set up a budget. When you get your budget in place, use the right budget categories so you can see where you can cut back.
Many people find success using the cash envelope system to cut back on frivolous spending. If that works with your mind too, then create envelopes for your main budget categories. You'll be surprised how simple saving money becomes when you have a plan in place.
Above all, the most important thing is to be able to see where all of your money is going and where you can make changes to save even more money each week.
#2 Put All Your Change Into Savings
This next tip could give you $500 in a year without any extra effort. Every time you buy something, round up to the nearest dollar and put the change directly into savings.
Some banks – like Bank of America – will do this automatically for you after you set it up. Talk to your bank and ask if they offer something like this.
If they don't, then use the cash envelope system and then take your loose change back to the bank once a week (or month). You can also keep track of how much you spent in a checkbook register, and then make a transfer once a week. (That's the old school method).
No matter which way you do it, it's pretty amazing how much you will save with this one technique.
#3 Pay Yourself First
Another way to save $10,000 in a year is to make it your highest priority. Before you pay a single bill or spend anything from your paycheck, deposit money into savings. Spend what's left after you pay your savings account.
If money is tight, then this amount could be pretty small at first. Make it a goal of increasing how much you put into savings from each paycheck.
#4 Cut Down On Bills
After you have a detailed budget set up, look really close at every single expense. Look for ways you can cut back.
Look for cheaper options for everything. Is there a cheaper cable option? How can you lower your electric bill? What about saving money on your clothes each month?
This is the perfect opportunity to shop around for different car insurance or call your current agent and ask for them to update your account with new discounts that you might qualify for.
There might even be some subscriptions that you don't use often anymore. Cut them out until you meet your savings goal.
An easy way to look over every bill is to print off your last month's bank statement. Go through each transaction, highlight every bill and ask yourself these 3 questions:
Can I negotiate for a better rate?
Can I shop around for a better rate?
Can I cancel or cut out this expense completely?
#5 Break Down The Goal Into Achievable Pieces
If this starts to feel overwhelming, break it down into smaller, more digestible, pieces. Instead of looking at it like you have to save $10,000, divide it into quarterly, monthly, or even weekly goals.
The smaller the number, the easier it will feel like it is to achieve! In fact, did you know that in order to save $10,000 each year that breaks down to $27.40 each day? By breaking your goals down, you'll be shocked to see how achievable they actually are!
Often with big goals like this, it's mostly mind over matter. Find a way to believe in your ability to meet this goal.
#6 Start A Side Hustle
If you go through all of these steps and realize you are still coming up short, it might be time to start a temporary side hustle. What's a side hustle? It's a way to earn money on the side. It's like a part-time job, but you usually work from home and only for as long as you need the extra money.
Examples of side hustles include:
Freelance Writing
Selling Crafts
Uber/Instacart
Dog Walking/Pet Sitting
Babysitting
Finding these jobs is easy with services – you can sign up on Care.com or Sittercity to advertise your babysitting services!
If the idea of taking on a side hustle is overwhelming, just remember that this is simply a season in your life. You don't have to keep this side hustle forever. In fact, you could actually only take on a side hustle for a few months to accelerate you toward your $10,000 goal.
Keep in mind that you will have to keep track of how much money you make with your side hustle and pay income tax on it at the end of the year.
#7 Set Spending Priorities
Another way to cut back on spending is to set priorities for everything you are going to buy. Do you really need this item? When you set your savings account as the highest priority, it is easier to say "no" to extra spending and meet your goals.
Something else that works is when you allow yourself a few really valuable purchases. Instead of a bunch of items that don't mean much, if you only spend money on a few really important things, they will mean more to you, and you won't be tempted to spend money on other things.
By setting strict spending priorities, you'll find more money in your budget each month to put toward savings.
#8 Swap Instead of Buy
Another way to save money on things you might purchase is to find swap groups in your area. You can also just get together with other people from your family or your friends.
You can swap out gently used children's clothes, baby gear, even cooking/baking appliances you never use. Set up a group and start posting things such as, "anyone need this?" The more people that participate, the more you'll save!
#9 Save On Food
Eating out is expensive. Cook at home and use the leftovers in more recipes. This one choice will save you at least $100 a month (maybe even more!).
When you eat out less frequently, it makes it feel more special and fun! There are lots of ways to save money at the grocery store. Below are easy tips to help you save on groceries:
Make a meal plan and stick to it.
Buy fruits and vegetables that are in season.
Skip out on name-brand foods. Buy the store brand instead.
Order your groceries online to help lessen impulse shopping.
Only go down the aisles where you need items.
Use cash envelopes to help you stay on track.
Don't forget to sign up for a rebate app like Fetch Rewards or Ibotta to earn extra money or gift cards.
#10 Budget Fun Money
Don't cut out fun money entirely, it will lead to burn out. Just cut back or find cheap/free ways to have fun.
This is all part of giving yourself grace and making sure you have the endurance to save all year long. If you try to cut out all fun money entirely, you'll feel more stressed out and have a negative attitude about the entire savings process.
Saving up $10,000 should be a positive and fun thing! Give yourself a set amount of money that you will spend each month. You can even save up this fun money for a few months and splurge on something big!
Remember, life is about balance. It is ok to cut back as long as you still allow yourself to enjoy the money you make.
#11 Set Up Passive Income Streams
What is a passive income? It's a source of income that generates more income without much maintenance after the initial set up.
This sounds like a dream come true, right?
One example of passive income is advertising on a blog. Another idea is to rent out extra rooms on Airbnb.
Passive income takes some effort to set up initially, but it will continue to bring in income, and then you can focus your time on other avenues of income.
#12 Constantly Readjust Your Budget
Finally, don't just set your budget and forget it. Go back regularly and look at your budget to make any adjustments that you need. Things will come up – like surprise medical or automotive expenses. Maybe you'll want to spend a little extra on a gift for your spouse. Whatever the reason, this budget should be fluid and changeable.
You will be more likely to stick to your budget (and crush your savings goal) when you know that you aren't stuck! If you find out that you are able to save even more money, go back in and adjust it.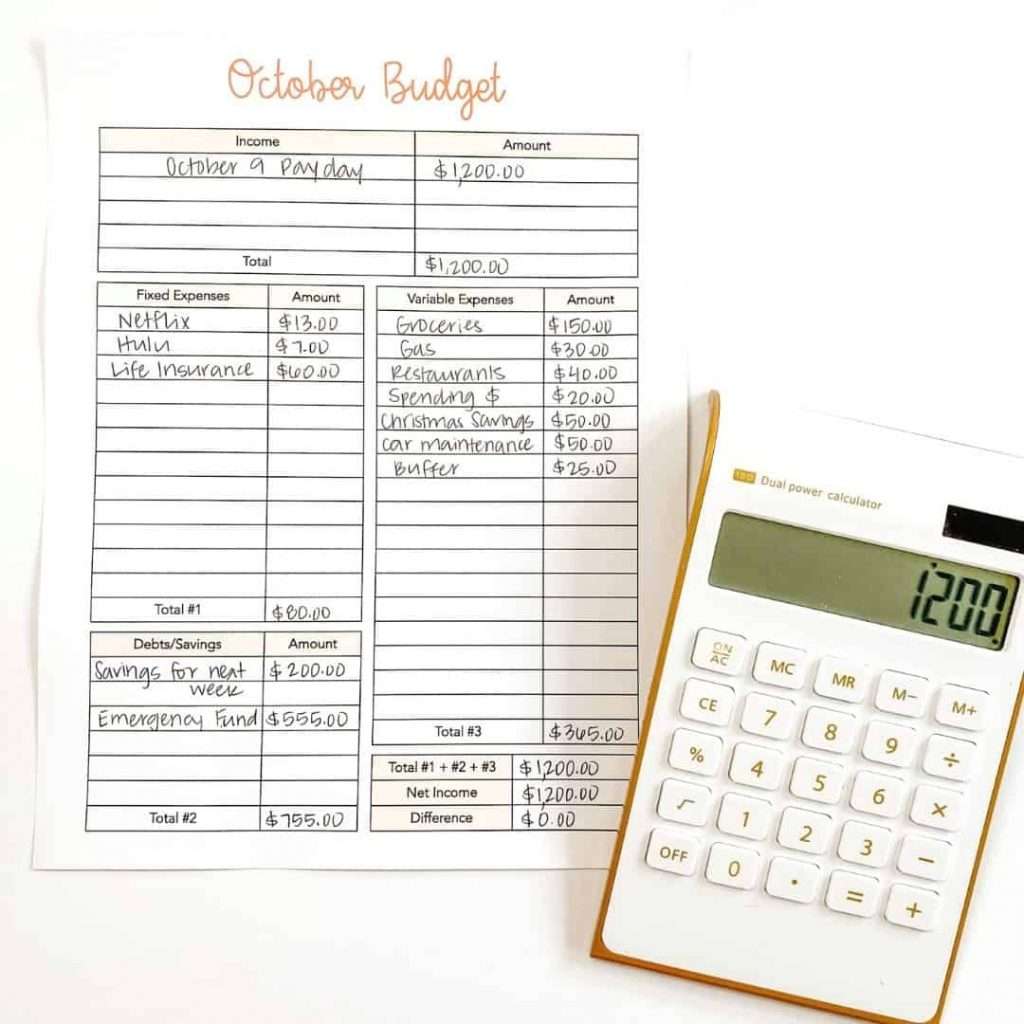 Track Your $10,000 Savings Goal
Once you've decided that saving $10,000 is worth the time and effort, then you'll want a fun and visual way to track your savings! Keeping track of your savings goal will not only keep you motivated but might even encourage your friends and family to set up their own savings goal.
Grab your free printable savings goal page below. Color in a box every time you save $100. Hang this free printable somewhere so that you can look at it often!
Final Thoughts
When you discover how to save $10,000 in a year, you will realize that it is so much easier than you might think! Make up your mind that you are going to stick to it. Create a plan with your family and keep each other accountable. When you do this with support, you'll be more likely to succeed!
If you need to pick up a side hustle, find something that fits naturally in your life and that you enjoy doing. With these tips, you'll achieve your savings goal and be able to plan for an even bigger one.