LET'S GET STARTED
What Is Inspired Budget?
Inspired Budget is the best online resource to help get your finances under control, pay off debt, save money, and build wealth. Once you have a budget in place, your financial goals can more easily become your reality. And no – budgeting does not mean you have to sacrifice having things you love – budgeting is about spending in alignment with your goals and values.
HERE'S WHERE YOU CAN GET STARTED
01
TAKE A FREE TRAINING
The 4-Step Framework To Budget For Your Best Life without sacrificing your weekly latte run
The top 3 massive mistakes EVERYBODY makes with their budget and WHY they are costing you money.
The SECRETS to getting your budget to help you find MORE MONEY each month.
My 4-Step Framework to budget for your best life…WITHOUT giving up your weekly latte runs.
GRAB ONE (OR BOTH!) FREE GUIDES
The Budgeting Cheat Sheet & The Debt Free Roadmap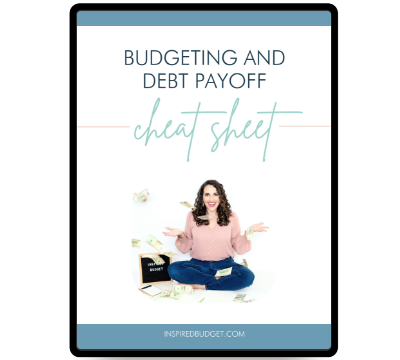 The Budgeting Cheat Sheet
The Budgeting and Debt Free Cheat Sheet will help you get started with setting up a budget that will help you reach your money goals.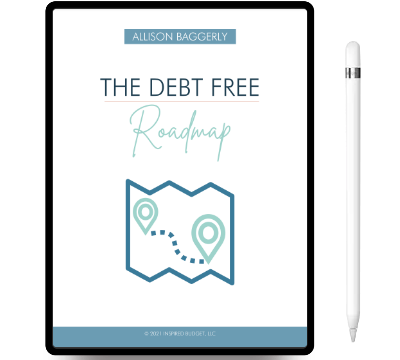 The Debt Free Roadmap
The Debt Free Roadmap is perfect for anyone who is ready to free themselves of their monthly debt payments and keep more of their hard-earned money.
03
SUBSCRIBE TO
The Inspired Budget Podcast
As you get started on your financial journey, you'll need motivation along the way. The Inspired Budget Podcast is a wonderful way to learn more about money in a non-judgmental environment
Episodes are released every Thursday and include inspiring interviews to help keep you on track toward your financial future. Be sure to follow or subscribe to the podcast (it's free!) so you don't miss an episode.
STREAMING ON…
04
FOLLOW ME ON INSTA
The Inspired Budget Podcast
As you get started on your financial journey, you'll need motivation along the way. The Inspired Budget Podcast is a wonderful way to learn more about money in a non-judgmental environment