I'll never forget the first time I learned that you could actually earn cash back for making everyday purchases. I was hanging out with my friend when she told me she was just paid by a website for buying Christmas gifts. I knew right away that I needed to start using apps and websites to my advantage!
Since that day, I've used a LOT of apps and websites to help me earn money or gift cards. Some are great and some are not so great. After months (or years!) of using different apps and websites, I've rounded up my FAVORITE. These are the ones that I use consistently and LOVE.
Rakuten (formerly Ebates)
I'll never forget the first time my friend told me about Rakuten. She basically said that she makes money from shopping online. I didn't believe her and actually called her out on this "lie." 
Turns out I owed her a huge apology because my friend was RIGHT! Rakuten actually pays you money for making purchases online. You can even link a card to their app and make money for buying items in the store too! And when I say you make money, I really mean it. I'm talking cold, hard cash. No gift cards. No store credit. Just real money.
If you're wondering how on earth this is possible, let me explain! First, sign up with Rakuten (formerly Ebates). If you sign up HERE, they will give you $10 when you make your first purchase through them!
Any time you shop online, go through their website first. They will activate cash back and you'll get a percentage back on your purchases. They have thousands of stores that you can shop through. The best part is that there are big-name stores like Target and Amazon. But there are also smaller stores to discover as well.
Rakuten even has a Chrome extension that you can download. This way, you can skip heading to their website first. Any time you go to a website where Rakuten can earn you cash back, they let you know! You simply click the "Activate" button and you'll get your cash back!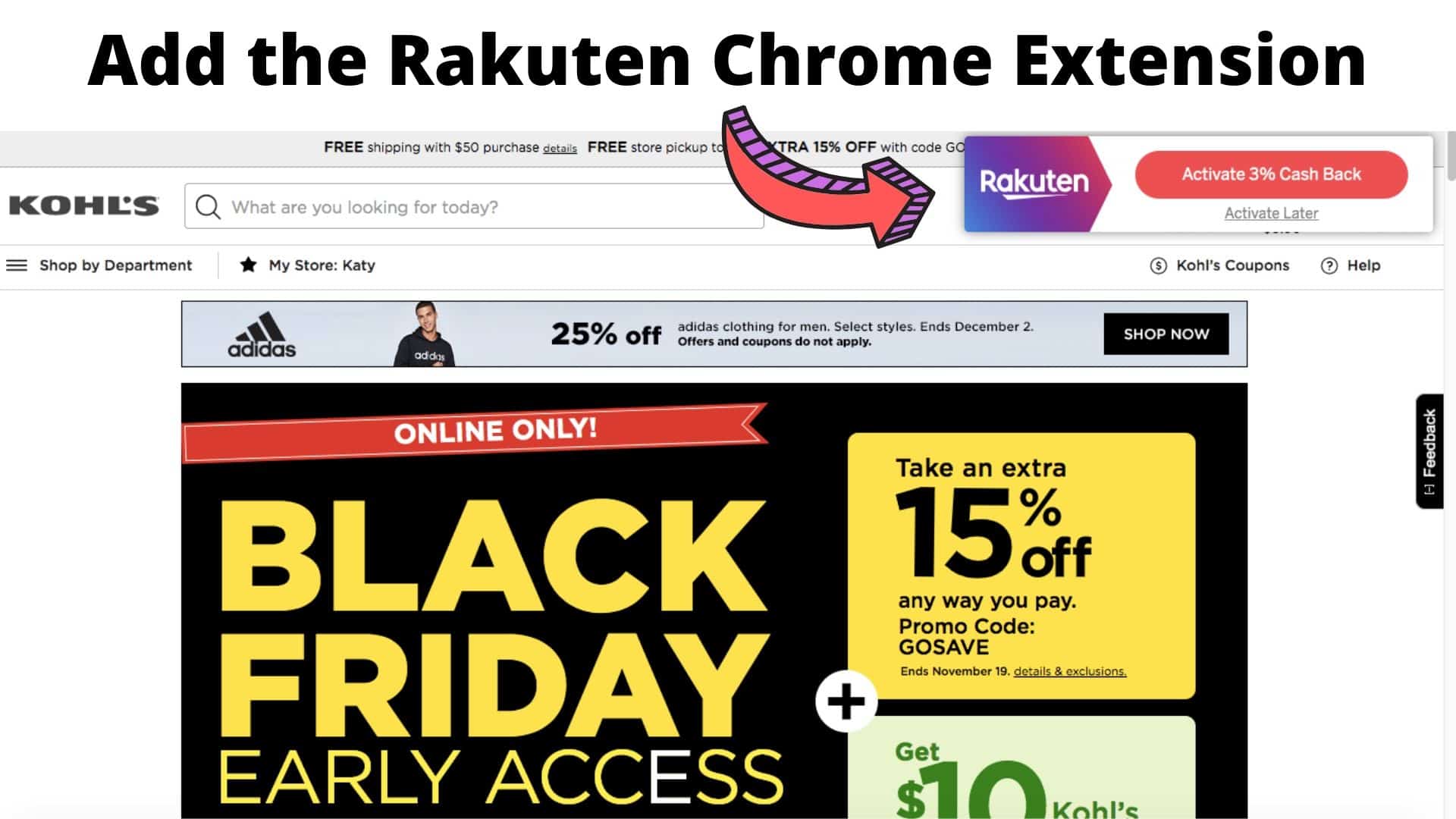 How Rakuten Pays You
Chances are you want to know exactly how you'll get paid by Rakuten. You can choose to get a check in the mail or a Paypal deposit. I personally use Paypal because I don't have to wait for a check AND I can immediately transfer the money to my bank account! They payout 4 times a year. Check out their schedule below:
How We Use Rakuten
Let's take a moment to talk about the danger of Rakuten! Do NOT use Rakuten as a way to justify buying ALL.THE.THINGS. There's no need to ruin your budget just to earn cash back. Instead, use Rakuten for purchases that you are already planning to make. 
For instance, when my husband and I were ready to splurge on a large piece of furniture, we went to World  Market to see what we liked. After deciding on the piece that we wanted to bring home, we went home and purchased it through Rakuten. What's amazing is that Rakuten also searched for coupon codes. We were able to save 25% off the furniture and also earned 4% cash back on that purchase!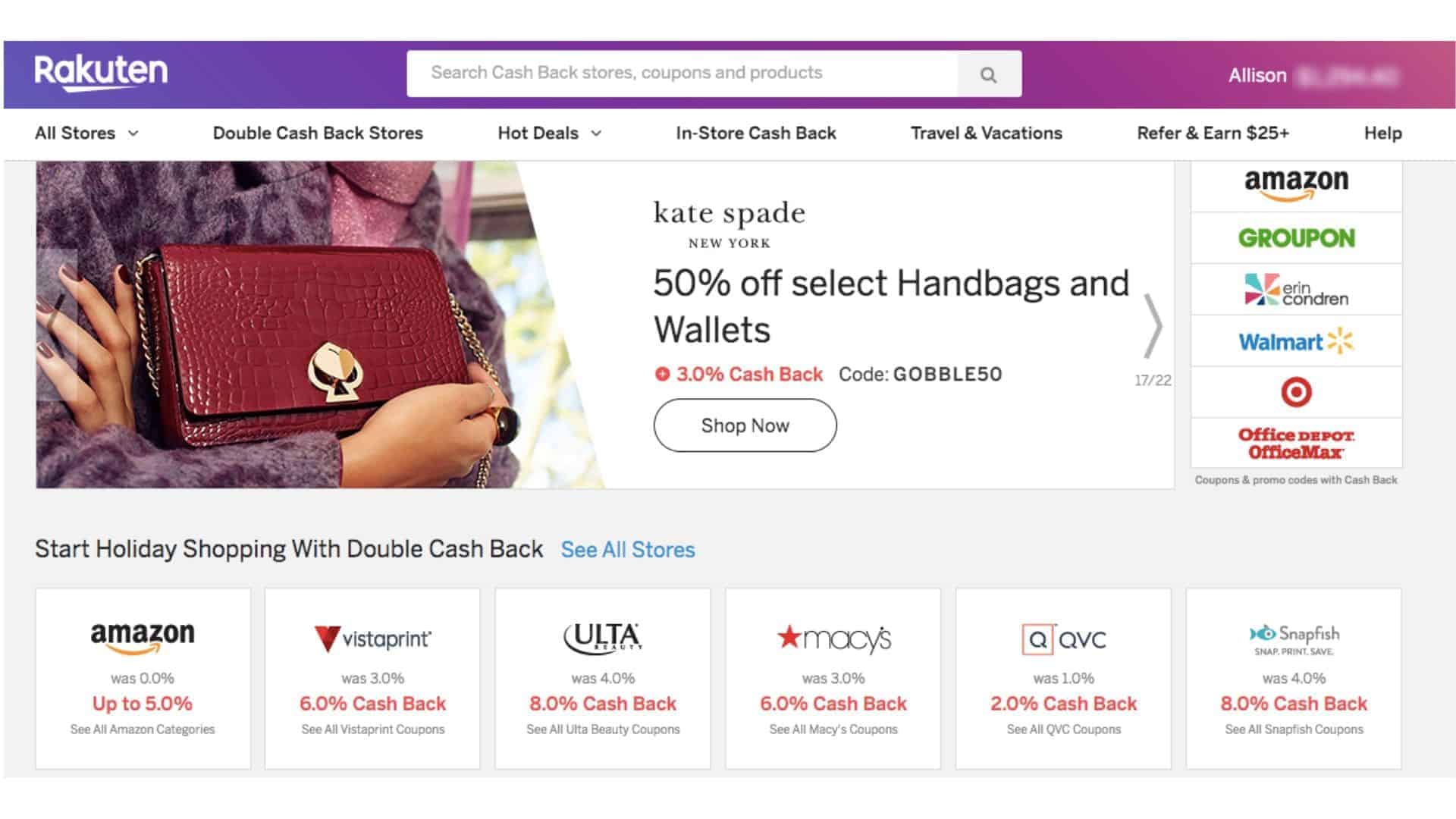 We did the same thing when we bought a new fridge and microwave from Lowes! Not only did we go to the store first, but then we came home to research more options. After a few days, we decided to make the big purchase! Instead of going back in the store, we went through Rakuten and bought our new appliances. We earned cash back and once again, Rakuten found and applied the best coupon code!
I plan to use Rakuten for ALL my online Christmas shopping and birthday shopping!
Click HERE to sign up for Rakuten. Plus, you'll get $10 for FREE after you make your first $25 purchase through Rakuten!
I've been using Ibotta for years to earn cash and gift cards for my grocery store purchases! This was one of the first apps I started using to earn cash back, so it has a special place in my heart!
Ibotta will pay you cash back on everyday purchases. You can earn money in several ways.
Earn cash back in store.  With Ibotta, you can earn cash back on tons of in-store purchases. Simply scan your receipt and you'll earn money for items that you've bought. I like to search the Ibotta app before I go grocery shopping to see if I can find cash back for any items that I'm already buying. What I love

about Ibotta is that not only do they have specific name brand items that you'll get cash back for, but they also have generic items that you can earn money for! Buying "any brand" items is my favorite way to earn money back!

Connect your store loyalty account. Ibotta has a cool feature where you can connect your store's loyalty card (like your Kroger card or CVS card) to their app. Then, use your loyalty card like normal. Ibotta will automatically see what you've purchased and gives you cash back on items you bought! This makes it easy for you to earn cash back without thinking twice!
Earn cash back online. If you're going to shop online (or even order pizza online!), then you can earn cash back through Ibotta. Simply go into Ibotta's app first then shop like normal.  Just like other apps and websites, they will give you a percentage cash back on what you buy.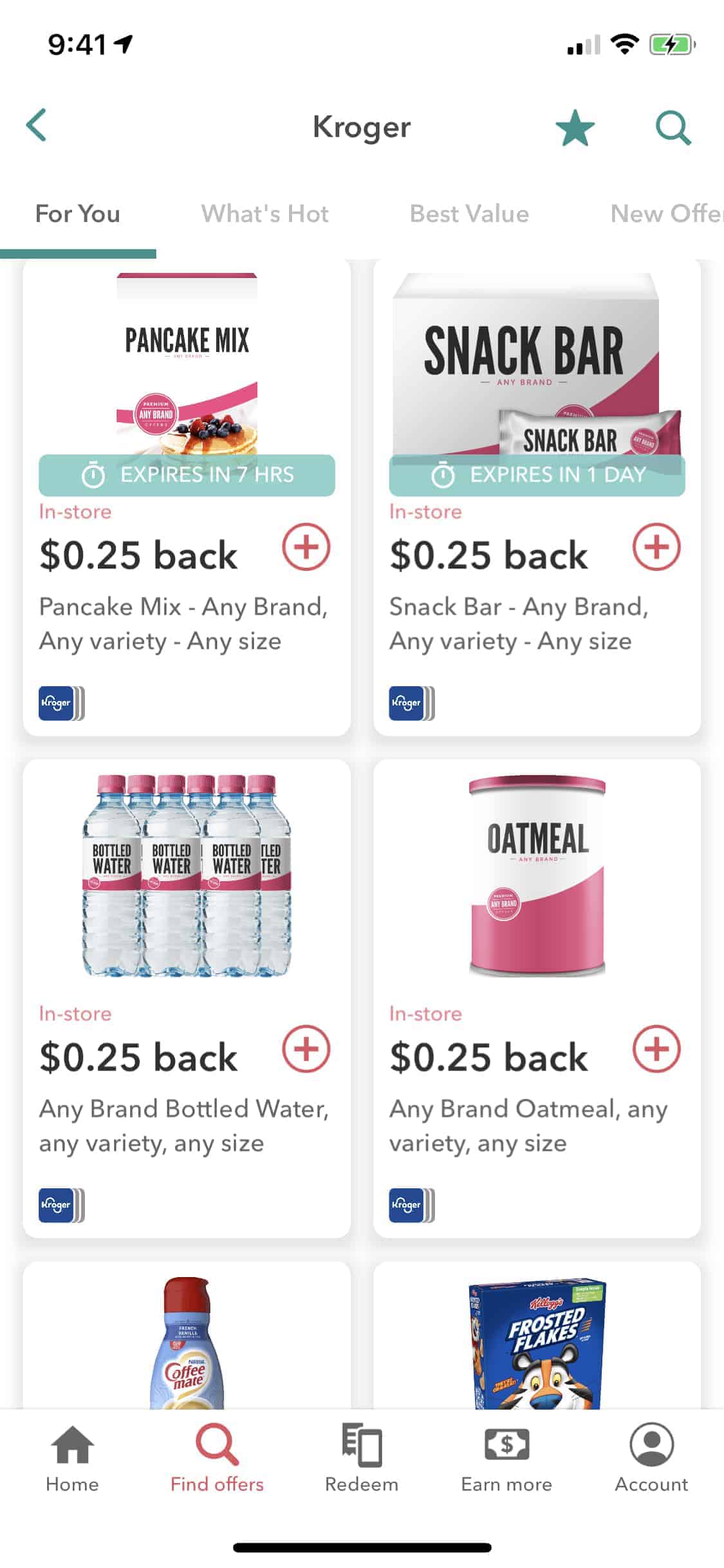 How Ibotta Pays You
Ibotta is the only app that I'm currently using that lets you CHOOSE how you want to be paid. You can either be paid actual money or choose a gift card!
I love how Ibotta makes it so easy to get paid. You can link your Venmo or Paypal account and they will automatically transfer your money over. The only downside is that you have to reach a $20 minimum limit to have your money sent to you. 
You can also choose a gift card to redeem your money! This is a perfect way to save up for Christmas gifts. I once knew a friend who saved every gift card she earned from apps and websites to go shopping in December. I thought that was so smart!
How We Use Ibotta
I love Ibotta and use it every week! Before I head to the grocery store, I scan through the app to see if I can earn cash back on any of my purchases. Once I'm home, I scan my receipt and that's it! The cash back has been added to my Ibotta account. Instead of withdrawing cash right away, I like to let my Ibotta money build up. Then, I withdraw it and use it for an item that I've had my eye on! It allows me to "save up" for something and buy it for free!
Click HERE to sign up for Ibotta and start earning cash back today!
Fetch Rewards is an app that allows you to earn points for scanning your receipts! You can then redeem your points for gift cards!
Fetch Rewards is super simple. You just shop and then scan your receipt. You can even scan an electronic receipt as well. So if you end up buying your groceries online and you aren't given a physical receipt, you can still earn points.  Fetch Rewards will automatically add points to your account. Not only will you get points just for scanning a receipt, but you'll also get even more points when you buy participating items!
How Fetch Rewards Pays You
You can use your points to earn rewards such as gift cards. There are tons of gift cards to choose from! Fetch Rewards also gives you an option to use your rewards to send money to charities! There are several charities to choose from such as the American Cancer Society, Habitat for Humanity, and Special Olympics. This is a wonderful way to give back!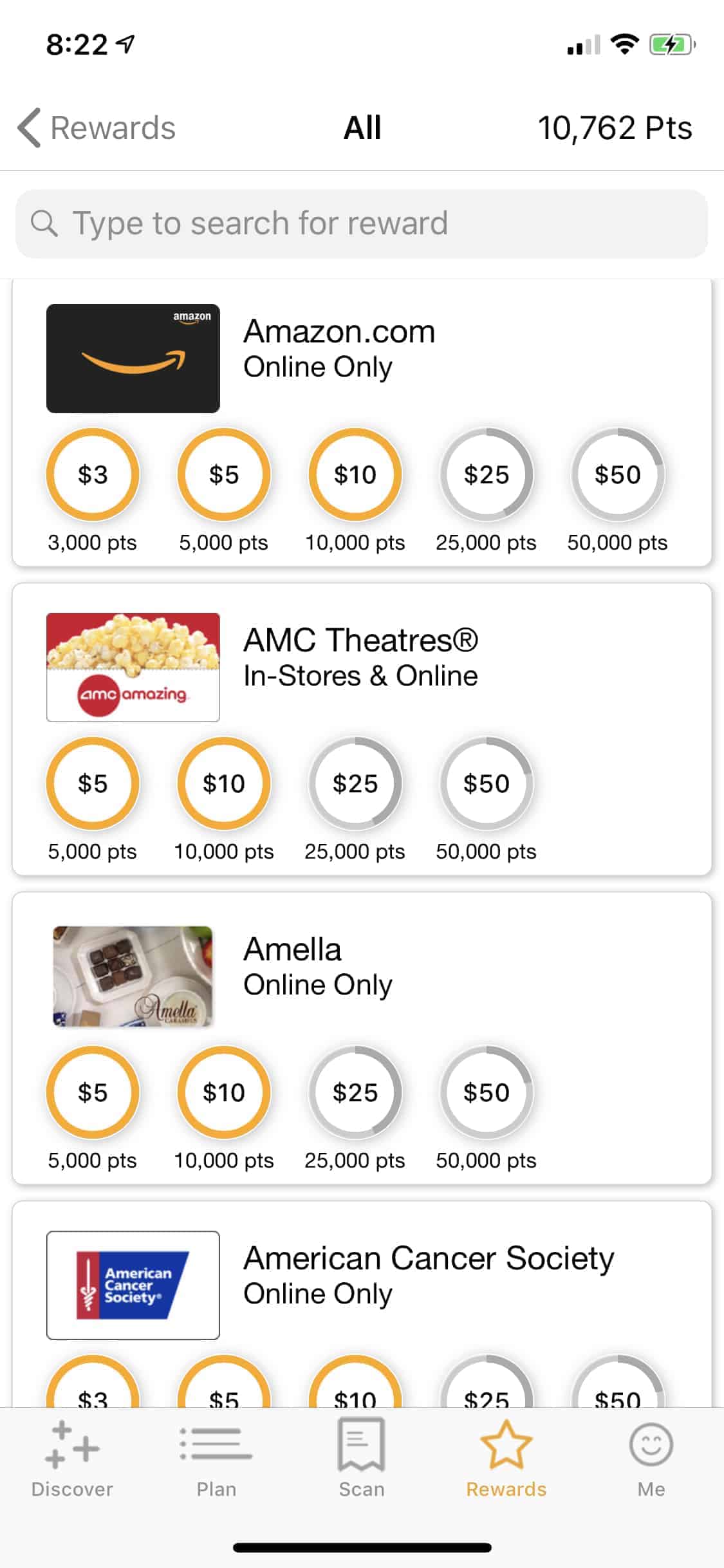 How We Use Fetch Rewards
I scan every single receipt that I get with the Fetch Rewards app. I'll always get points, even if I haven't purchased any of the participating items. And here's the cool thing: if I ever find someone else's receipts on the ground (like in the parking lot of a grocery store), I scan those too!
I don't usually search for specific items in the store to earn more points from Fetch Rewards, but this is something that I might do in the future!
Sign up for Fetch Rewards HERE and you'll automatically earn 2,000 points! 
There are SO MANY options when it comes to earning cash back and gift cards for everyday shopping. No matter if you're buying something in-store or online, there is a way for you to earn money back! The key is to use these apps and websites consistently. 
What is your favorite app or website to earn cash back or free gift cards? Let me know in the comments!