Have you seen those "get cash fast" ads on tv or the internet? It may seem like an advertisement for one of those payday loan places that cashes your checks before you earn them, but there are better ways to get cash quickly!
Whether you beg, borrow, or sell your things in order to do it, you can make some extra cash on the side for immediate payment. As a matter of fact, I've got 29 awesome ideas to help you get cash fast!
Need Money? Get Cash Fast With These 29 Money-Making Opportunities!
Whatever your circumstances may be, I'm sure there is some area where a little extra money would do you some good. Maybe, like so many others, you have suffered a loss of income due to the pandemic.
And, let's not pretend that the pandemic is the only reason some of us lose work or find ourselves unable to pay bills. We all have our stories and our own unique set of circumstances. So, let's turn that struggle into triumph!
If you are struggling to make ends meet or are looking for a way to pay for some enhancements around your home, you have options.
For today's post, I am going to break it down into three sections:
Things You Can Sell To Make Cash Fast
Money You Can Find In Your Spending Budget
Money You Can Make As A Side Hustle
Let's get started!
Things You Can Sell To Make Cash Fast
1.Gift Cards
Gift cards are easy to sell if you haven't used them. You can get pretty close to the card's value, and it will sell quickly on eBay.
2.Used Clothes
There are plenty of ways to sell used clothes in good condition online. Local thrift stores also will often buy used clothes on the spot. Also, check out local consignment shops to sell clothing that is still in good condition.
3. Blu-Rays, Video Games, and DVDs
Selling a video game or movie collection is easy online. Get cash fast by selling them in person! You can sell them in bulk for some quick cash or list them on eBay with light shipping fees.
4. Musical Instruments or Electronics
Pawnshops are another avenue for getting some quick cash. You can either sell your things or put them up as collateral. Selling musical instruments, like an electric guitar or keyboard, do best in pawnshop scenarios.
5. Unused Cosmetics
These light-weight, in-demand items also sell well on eBay. Some stores like Ulta will also take back cosmetics if you didn't like them. If they offer store credit, then you can always sell the gift card they give you.
6. Toys
Your kid's old toys can bring in some dough if they are in good condition and don't have sentimental value! Start by listing them on Facebook Marketplace.
7. Tools
List your old tools for local buyers on Facebook to get cash fast or have a garage sale with your toolset front and center.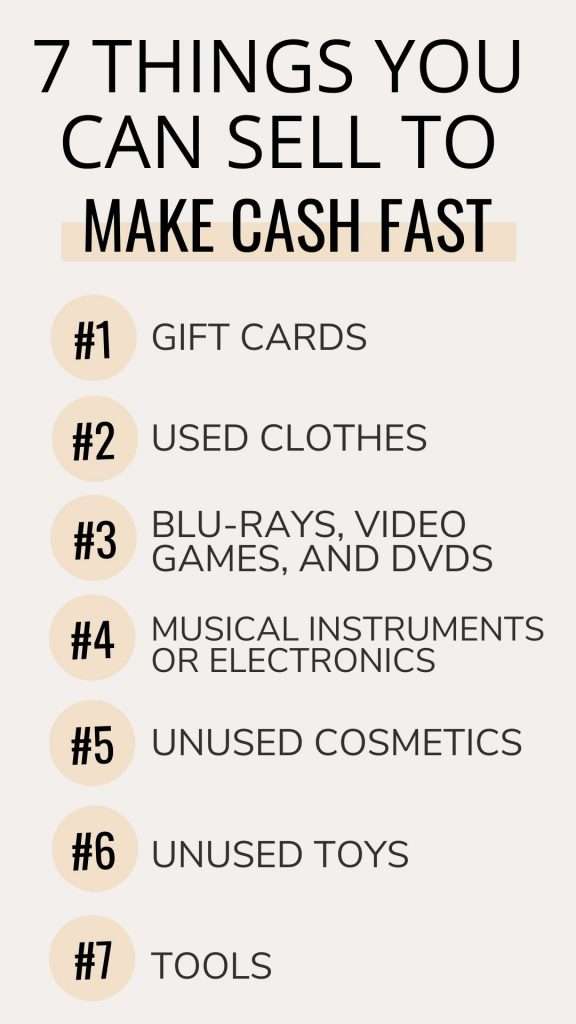 Money You Can Find In Your Spending Budget
1. Subscriptions
Cancel subscriptions to tv and music providers you don't need or use to find some quick money instantly.
2. Cash Back Apps
You all know I am a huge fan of maximizing my cashback opportunities to make some more money! Apps like Ibotta or Rakuten are a great way to get cash fast. Just make sure to hold on to your receipts.
3. Home and Auto Insurance
Make sure you are not over-covered or overpaying. You can reduce coverage or switch carriers to free up some cash!
4. Debt Consolidation
With one payment and often 0% interest for 6 months or longer, you can free up cash and take down your balance faster at the same time.
5. Payment Schedules
Ask about late fees or interest and delay payment if you need cash now. Leverage auto-pay schedulers to buy time!
6. Recycle for Cash
Instead of having the city pick up your cans and bottles, claim that deposit back for the CRV of $.05 each. It doesn't seem like much, but it can be an effortless way to get cash fast.
7. Round-Up Apps
If you have trouble saving money, round-up apps like Acorns are a great way to trick yourself into keeping your money when you spend.
8. Trade In Old Phones
Visit your local phone retailer and see if you can trade in some of your old phones for some quick cash or gift cards.
Money You Can Make As A Side Hustle
Sometimes, all you need is a fun side hustle to make some cash fast! There are all kinds of jobs you can sign up for. Some require muscle, some require patience, and some might be just the thing you are looking for.
These 14 potential side hustles can be great for making a little extra this month or bringing in some real money for the near future.
If you're super organized and want to work from the comfort of your own home, then becoming a Virtual Assistant (VA for short) might be right for you!
Right now I have a VA that I pay $25/hour, so this work is legit and good money. Want to learn more about becoming a VA? Check out this free training.
2. Become An Amazon Driver
Join Amazon as a delivery driver to make some extra cash if you don't mind driving a lot. This is perfect if you like your alone time!
A great perk? Many Amazon deliveries are scheduled late at night if you have a full-time job you need to attend to during the day.
3. Join A Ride Sharing Service
Delivering for Uber Eats, GrubHub or any of the other doorstep food delivery services is a good way to make extra cash fast. People also still use Uber and Lyft to get from place to place, especially now that pandemic risk is lowering.
If you'd like to meet new people and don't mind driving around, this is a great way to make some side money!
4. Become A Freelancer
Working as a freelancer online has many perks, especially if you get to use your special skills to make some extra cash.
There are lots of ways to do freelance work online! You can:
Become a virtual assistant
Sell your data entry services
Offer your writing and editing skills
Become an SEO expert to help digital marketers
Create social media graphics
You can use a number of free apps to support your artistry from graphic design to wordsmithing. All that's needed is raw talent and some marketing ability, which Facebook is great for!
5. Answer Gig Ads
Another way to approach freelancing is to look at the gig ads posted online, or in apps like TaskRabbit. You can take jobs doing random gigs for payment. Do anything from housekeeping to photography, physical labor, or mindless drone work.
It's all there!
6. Take Surveys Online
Another great way to earn money from home is to take online surveys. Businesses love their surveys because it provides them with the feedback they need, but most customers don't have time to bother with them.
They tend to hire outside agencies to get feedback, and they'll pay you to answer the questions they're after. My favorites are Survey Junkie and Branded Surveys!
7. Test Apps
Another way to get cash fast, similar to surveys, is to test websites and apps for a fee. You have to qualify, but if you have what they need, you can make $10 per 20-minute test!
The tests include a handful of follow-up questions. There is also the opportunity to make $120 on a video interview regarding your experience with the website or app in question.
8. Host On Airbnb
Casitas and NextGen Suites are big with newer homes. If you have a house with some additional living space that you don't use all the time, you might consider listing it on Airbnb for some additional revenue.
If you live in a popular area for tourism, you might be able to pay your monthly mortgage with the money you make on Airbnb alone!
9. Rent Your Car Out
You've probably heard of Airbnb by now, but did you know that you can even rent out your car? Two major services cover this market, and they protect your car while it's rented for a small fee.
Try Getaround or Turo if you're interested in letting your parked car earn you some extra income while you're working from home. (Talk about double pay!)
10. Data Entry For Amazon
Amazon doesn't just hire drivers to make deliveries; They also have something called Mechanical Turk. This work opportunity involves many different types of data entry, such as:
Product descriptions
Transcriptions
Tagging
You get paid by the gig based on client approval, and the price is set regardless of how long it takes you. Needless to say, there are ways you can get burned, but there are also huge opportunities and flexibility.
11. Sell Photos
You don't have to be a great photographer to make money with your pictures. You just need to pick up a few good habits and sell what people are looking for!
There is a market for exclusive photos if you can provide the images bloggers need for their websites. Anyone with an iPhone and some filters can market their pictures on Facebook in commercial groups.
12. Tutor
With so many children currently being homeschooled, there is a big need for helpful tutors, specifically online. You can teach kids in person or virtually to help keep them from falling behind academically or improving their skills in a certain subject.
You can find many of these opportunities through Care.com!
Another great tutoring opportunity to make some quick and steady cash is to tutor kids internationally with an interest in learning English! I recommend taking a look at VIPKid.
13. Sell On Etsy
There are lots of online marketplaces where you can sell new and used items to customers, but Etsy remains unique. You can make money on Etsy just by doing what you love!
If you are crafty or have an artsy hobby, Etsy is the place to set up shop and get some extra money for your homemade products.
14. Give Plasma
One way to get cash within a few hours is to donate plasma at your local hospital or blood bank. I know somebody who bootstrapped his independent film by donating plasma!
Some people do it frequently for a little extra money, but you usually get a good payoff for your first and second time as an incentive.
The vetting process is uncomfortable and takes some time, but the process is pretty easygoing once you pass.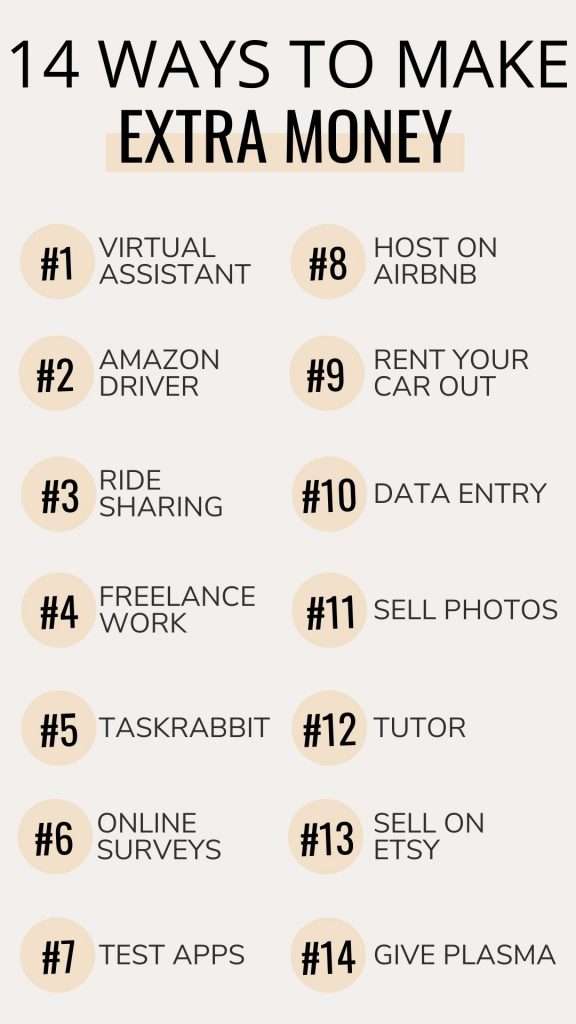 Get Cash Fast: Final Thoughts
Whether you decide to pawn off some of your prized possessions or drive with Uber, you now have 29 new money making ideas to get cash fast!
Let me know what you decide to do in the comments down below.