*This post is sponsored by Spruce. All opinions are 100% my own.
It's become obvious that now, more than ever, it's time to make saving money a priority. However, saving money can feel more complicated than it actually is…especially when you feel like you're drowning in expenses.
To easily save money in 2022, you need a plan to follow as well as a banking solution that makes saving money straightforward. In this article I'll be sharing 4 steps to help you save money this year and how SpruceSM, a mobile banking app, can help you reach your money goals when you set up your Spruce spending and savings accounts!
How To Easily Save Money
Let's be honest…saving money isn't always fun, especially when it feels impossible. But learning how to save money is essential if you want the peace of mind that comes with financial security. Thankfully, saving money doesn't have to be difficult. Below are 4 steps to help make saving money easy, and dare I say…maybe even fun.
1. Think about what you want.
If you don't take the time to think about what you want to save money for, chances are you won't save money at all. On the flipside, sometimes we want to save money for everything under the sun because society tells us we need it all.
While it would be nice to afford everything in life, that's just not possible. That's why it's important for you to think through what YOU want to save for. Not what society tells you to save money for. Not what your friend saves money for. It's about finding out what savings goals are most important to you and your family.
Start by taking a few minutes to brainstorm everything you'd like to save money for. Don't hold back on this list. To help get you started, answer the questions below. You might be surprised what they reveal!
How do you like to spend your time?
What are you excited to spend your money on?
Which expenses make you nervous or anxious?
What does financial security look like to you?
Is there anything coming up in your life that will cost a significant amount of money?
These questions can help you determine what you want to save for. Maybe you learned that what you really value is spending time with your family and exploring new places. If that's the case, then saving money for travel would be important to you.
Maybe you realized that your car is getting older and the thought of it breaking down is causing you anxiety. If that's the case, then it might be time to start saving for a new vehicle.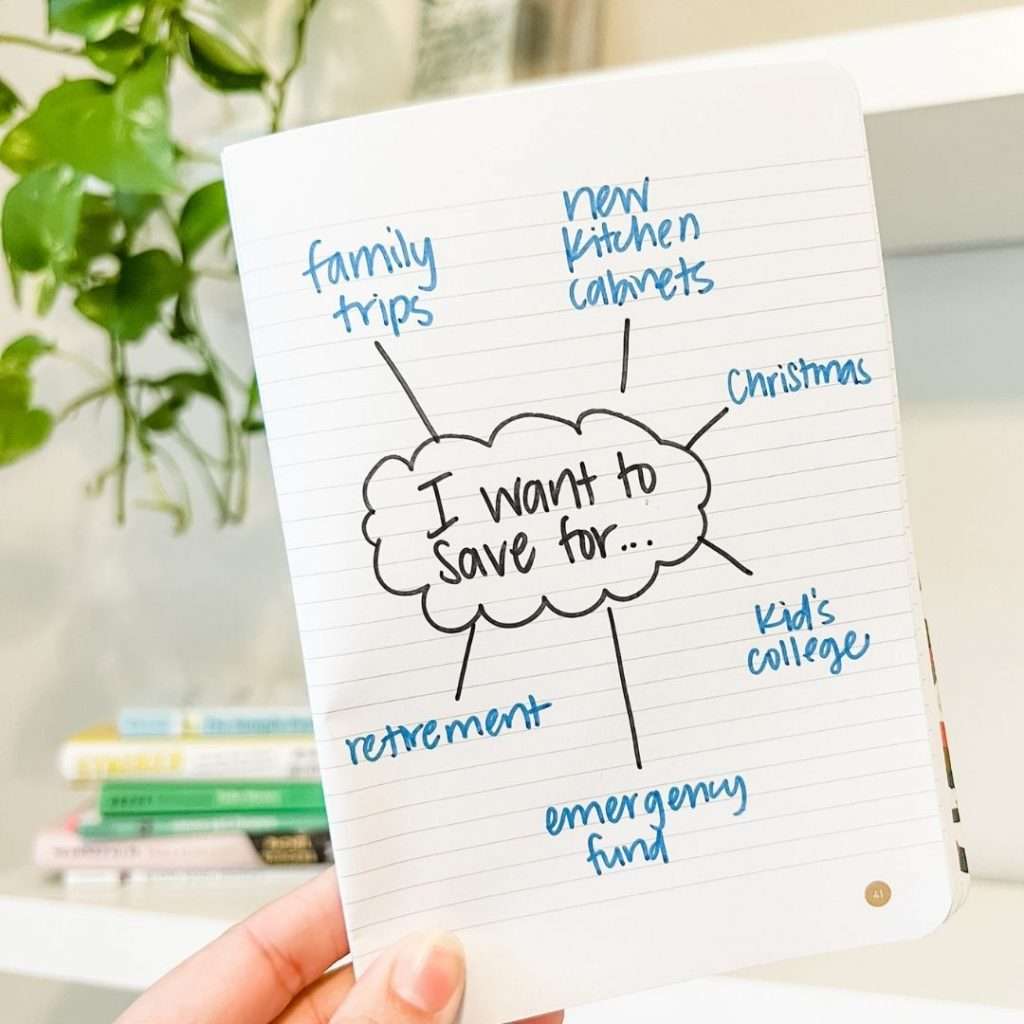 2. Prioritize your goals.
Now that you've taken time to think through what you want to save money for, it's time to prioritize these goals. Essentially, it's time to ask yourself what is most important for you and your family.
Personally speaking, our family has prioritized having an emergency fund in place as well as saving money to take a yearly family vacation. We want to have money set aside for any emergencies, like unexpected medical bills, and time together to create memories.
Would it be nice to also redo my entire kitchen and buy a brand new car? Sure! But these two items fall lower on my priority list.
Spend time reviewing your list and circling just a few goals that you'd like to focus on starting today. While you might be tempted to save for every goal you have, Spruce has found that having more than two saving goals can be hard to balance. Too many goals can lead to feeling overwhelmed…and that's exactly what you want to avoid!
3. Determine what you need to save.
Now that you have 1 or 2 saving goals in mind, it's time to get a realistic idea of how much you should be setting aside each month toward these goals. When it comes to understanding how much to save each month, I like to start with the end in mind.
Let's say that you want to have $5,000 saved in an emergency fund for your family. You've decided that you'd like to have this amount saved in the next 8 months. To determine how much you should be saving monthly to reach your goal, all you have to do is complete a simple math problem!
Take your savings goals and divide it by the number of months until you want to reach that goal. In this case, we would take $5,000 and divide it by 8 to get $625. This means you would need to save $625 each month for 8 months to reach your emergency fund goal.
Spruce even breaks down how much you need to save each month to reach your goal! This way you can see your progress at a quick glance.
The best way to easily save money is to write a realistic budget for yourself or your family. Your budget is the plan that will help you reach your savings goals. If the idea of writing a budget intimidates you, think of it this way: your budget is simply a map for your money. You have full control over how you spend and what you spend your money on.
Once you've decided what your budget will look like, all you have to do is follow the map and stick to the plan you set!
4. Set up and automate your savings account.
Congrats! You've made it through the hardest part of saving money! You know what you want to save for and how much you need to save. Now it's time to choose a place to keep your money safe.
When it comes to saving money, Spruce has you covered.
Why?
Because Spruce makes it easy to organize your savings goals!
Spruce is a mobile banking platform for people who want to be good with money. It's ridiculously easy to save money with Spruce. Here's how it works:
Decide on a savings goal (the goal you're prioritizing)
Name that goal (such as "Beach Vacation").
Choose a photo (this is a great way to remember what you're working toward).
Set a goal amount (how much you want to save).
Set up automatic transfers (or make one-time deposits).
Track your progress (and celebrate along the way).
Take it from someone who took too long to make saving money a priority…the best way to make saving money a habit is to make it automatic! Spruce does this for you. It's easy to set up automatic transfers to go toward your goals each month…making saving money second nature.
Thanks to technology, saving money doesn't have to be complicated anymore!
Benefits of Saving Money with Spruce
When it comes to saving money, it's best to keep your system as simple as possible. Spruce does just that with saving features and goals. I'm personally most excited about the last one!
Spruce allows you to easily organize your money.
Confession time! When I first started saving money, I kept my money in savings account and used the Notes app on my phone to organize my money between goals. For instance, if I had $5,000 in savings, I had to know how much was set aside for my emergency fund, and how much was earmarked for Christmas. I'd manually list this out in another app on my phone.
My setup had many flaws. There were times I would completely forget to update my tracker and I even deleted it once altogether by accident! Learn from my mistake and find a different solution like Spruce.
Spruce allows you to easily save for more than one goal at once. The best part is that you can see the progress you're making along the way! Having your money clearly organized takes one more thing off your plate.
With Spruce you can automate your savings so you can reach your money goals.
Not in the habit of saving money often?
That's okay! Spruce is on your side.
Spruce lets you set up automatic transfers from your checking/spending account to specific saving goals. This way, you'll be saving money consistently each and every month.
The best part is that you don't even have to think about it! This means you can spend more of your mental energy on more pressing issues. Your future self will thank you for automating your savings with Spruce.
Earn cash back with Spruce to reach your savings goals faster!1
Spruce allows you to earn cash back at thousands of stores! This is hands down my favorite thing about Spruce.
You can easily earn cash back by using your debit card at select retailers. Then, your cash back rewards will be automatically deposited into your designated "Spruce Extra Savings" account.
How awesome is that? This allows you to reach your savings goals faster! They have over 10,000 participating retailers including grocery stores, hotels, and restaurants. Spruce makes saving money easy with this feature!
Click here to sign up for Spruce and check out the retailers where you can earn cash back.
Saving Money: The Bottom Line
Saving money doesn't have to be complicated or difficult. All it takes is prioritizing your savings goals, living on less than you make, and signing up for Spruce that makes saving money easy.
Spruce is a great option for anyone who wants to save money, earn cash back, and get better with their money. Click here to give Spruce a try!
Spruce is a financial technology platform built by H&R Block, which is not a bank. Banking products provided by MetaBank®, N.A., Member FDIC.
1Spruce Rewards are powered by Dosh. Cash back offers and amounts may vary by user, merchant location and offer period. Check the Spruce app for offer availability. Cash back earned by qualifying purchases will be deposited in your Spruce Savings Account. See Spruce Rewards powered by Dosh Terms for details.