I'm writing this article while sitting on a plane next to my son, flying 36,000 feet above sea level. We just spent 8 nights in Canada where we hiked up majestic mountains, skipped rocks in gorgeous glacier-fed lakes, experienced Orcas in their element, and encountered not one, not two, but six bears. This flight, along with the two others that we took were completely paid for with credit card points…which means we spent a total of $0 on international flights for our family of four. This was our first major vacation that we paid for by travel hacking, and I can't wait to share how we made this trip a reality.
What is travel hacking?
Before I dive into how we were able to book free flights, hotel stays, and a car rental on this trip, I want to make sure we are on the same page when it comes to what travel hacking is.
Travel hacking is when you "hack" your travel so you can pay less (or even nothing!) for flights or other accommodations. This is usually done by signing up for specific credit cards, meeting their bonus requirements to earn points, and redeeming those points for travel.
In the past, my husband and I had the Southwest Companion Pass and he was able to fly with me for free on any Southwest flight. This was a great way for us to essentially fly free for a period of time. I would use points I had accrued on my Southwest credit card to book my flight and then he would fly free. We only had to pay taxes which came out to about $11 each round trip.
The moment that we experienced the benefits of travel hacking, we wanted more! After our Southwest Companion Pass expired, I decided to research other travel hacking options.
Disclaimer: Who travel hacking is and isn't for
Before we go any further, I have to in good conscious talk about who travel hacking is and isn't for. Travel hacking is made possible by using credit card points to book free flights, hotels, cars, and other travel accommodations.
However, that means you must use a credit card to make travel hacking possible. If you are someone who struggles with self-discipline when it comes to credit cards, then please know: travel hacking isn't for you…yet.
This will only work and be beneficial if, and only if, you are willing and able to pay off your credit card balance in full each month. Because credit cards have notoriously high interest rates, it doesn't make sense mathematically to use credit cards for travel hacking if you have to pay interest in your card. In my opinion, it's just not worth the financial risk.
If you want to experience the benefits of travel hacking, be sure that you are credit card debt free and have the self-discipline you need to not overspend on your credit card.
If you're still here reading, then I'm going to assume you are in the right place financially and have the money mindset to make travel hacking work for you. Let's do this!
Our Canada Trip – What We Travel Hacked
My husband and I both value our family vacations. We know that we only have unlimited access to our children for so long. Our goal is to create as many memories with them and show them as much as the world as we can during this time. We definitely don't make a fortune, so we knew that travel hacking would be instrumental in making our dream a reality.
We decided that this would be a family vacation that we travel hacked the mess out of. Yep, our goal was to get the biggest bang for our buck. Here's exactly what we travel hacked on this trip:
Flights
Our family includes four people. We decided to visit both Banff and Vancouver in one trip. Our flights were completely paid for with credit card points. We actually took three flights total.
Flight #1: Houston to Calgary
Flight #2: Calgary to Vancouver
Flight #3: Vancouver to Houston
Anyone that has booked (or even looked into) plane flights for four people knows that these tickets could easily run over $2,000 total. With inflation, I bet the price would be even higher than that! We were very fortunate to have this cost covered with credit cards points. Our original plan was to use credit card points to only cover the flights. However, I found a way to earn even more points (keep reading for how I did it), which meant we could pay for even more of our trip with points.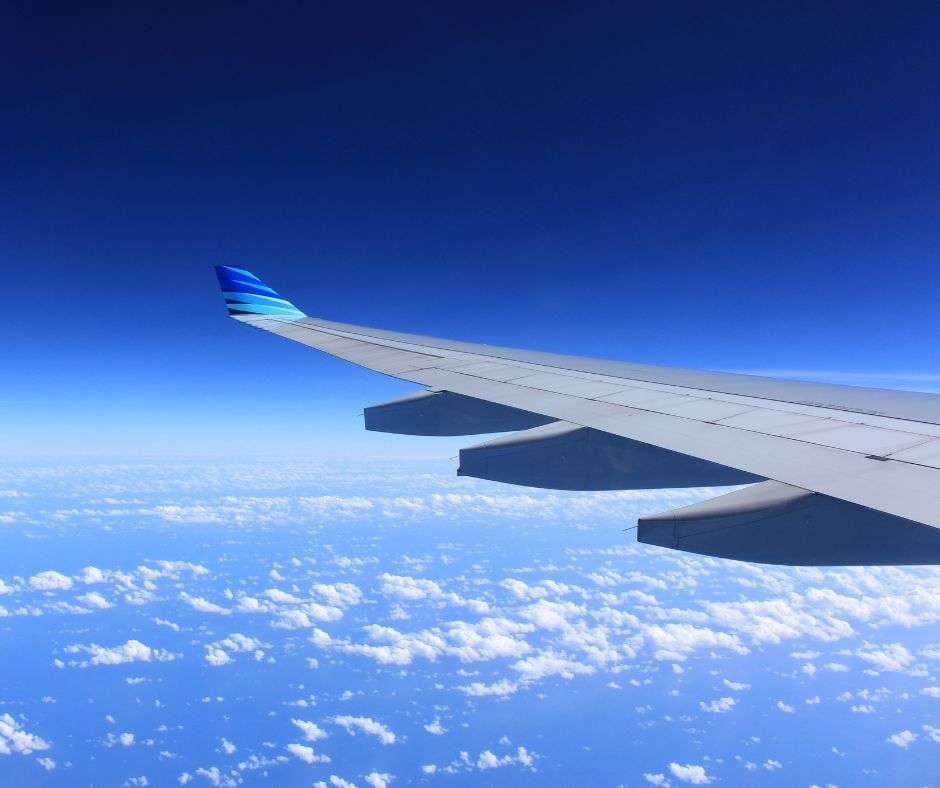 Car Rental
The first 5 nights of our trip we stayed in a condo in Canmore which is right outside Banff National Park. We knew there was no way to make this leg of the trip without a car rental. Our condo was over and hour away from the airport and we wanted to drive along the Icefields Parkway in Banff National Park. Plus, we wanted the freedom and options that renting a car gave us. This meant that we could leave our condo on our own time, switch up our plans if necessary, and overall have more control over our trip.
As soon as we had our flights secure, we booked a mid-sized SUV for five full days. We picked up our car at the Calgary airport and returned it at the same location. This would normally cost us about $700, so we were thrilled to pay exactly $0 for the rental.
Accommodations: Banff
My husband and I have always wanted to visit Banff National Park. My in-laws have a timeshare and graciously gifted us some of their points. They purchased a timeshare years ago and we were able to use their points to book 5 nights in a condo right outside of Banff in Canmore, Alberta. We paid a $250 transfer fee in exchange for five nights in a two-bedroom, two-bathroom condo.
I know that not everyone has access to someone with a timeshare, let alone someone who is willing to offer up their points to you. And to be honest, timeshares aren't typically a noteworthy investment. We consider ourselves lucky and blessed to have family that is willing to share a portion of their timeshare with us to make memories.
Using someone else's timeshare points certainly doesn't fall under the "credit card travel hacking" side of traveling, however I wanted to be transparent in this post about all the ways we were able to travel hack this trip, timeshare points included.
Accommodations: Vancouver
When my husband and I were in the beginning stages of planning this family vacation, we talked with a friend who is originally from Canada. He told us that if possible, we should try to visit Vancouver as well. We decided to jump at the chance since it was only a little over an hour long flight from Calgary to Vancouver.
After booking flights for all four of us and a car rental, we still had credit card points leftover. We went ahead and booked the Pan Pacific Hotel in downtown Vancouver. Unfortunately, we didn't have enough points to cover the entire cost of the three nights, so we did end up paying $68 to book the hotel.
We successfully travel hacked our flights, rental car, and most of our accommodations. This meant we were able to focus on saving money in advance for food, excursions, souvenirs, and gas for our rental car.
Travel Hacking: The Steps We Took
Travel hacking didn't happen by accident with our family. When it came to planning such a big trip, I knew it would take research and specific action on our end. Here are the exact steps we took to make travel hacking work for us:
1. We planned our trip in advance
A little less than a year ago we started planning this trip. Matt and I started by talking about where we wanted to take our children and how we could make this a possibility. We researched locations where we could use our in-laws timeshare points as well as how much it would cost us in credit card points to travel to different locations.
I'd sit down with my computer and log into our travel rewards program. I would go through the process of booking a flight for four people to get a good idea of how many points we would need to make this trip a reality (except I never actually booked the flight until I was ready!).
I laid out my "nonnegotiables" when it came to travel hacking. For instance, I knew that I wanted our flights covered with credit card points. I figured that if we were able to cover any more of the trip with points it would be a nice "bonus." Once I had an idea of how many points I would need, I developed a plan for how our family would accrue the amount of credit card points we needed.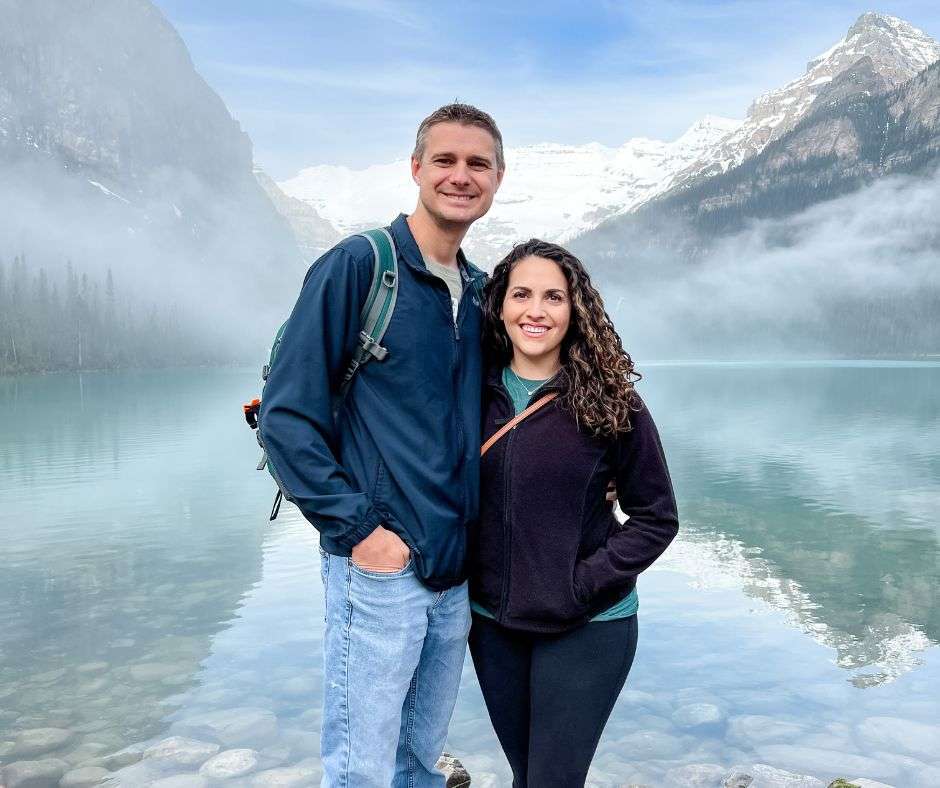 2. Choosing the right credit card
My next step was to research credit cards as well as their bonuses. Each credit card has its own specific bonus, and these bonuses can change throughout the year. I also had to take the annual credit card fees into consideration.
I decided to sign up for the Chase Sapphire Preferred card. Personally, I liked that the bonus points could be redeemed for travel as well as cash back and even gift cards. It was clear that this card would be great for our family when it came to travel hacking.
Click here to learn more about the Chase Sapphire Preferred Card.
Interested in other credit cards and the rewards they offer? Click here to see a list of what's currently available!
Soon after signing up for the Chase Sapphire Preferred card, I also signed up for the Chase Unlimited Business Ink Card. I use this card specifically for my business and easily met the bonus requirements to receive the extra credit card points.
I love that I can combine my points from the Sapphire card with my Business Ink card to book our family vacations! This was definitely a game changer when it came to acquiring more points for our family.
3. Earn the sign-on bonus
Many credit card companies offer a sign-on bonus when you first sign up for your new credit card. Mine were not any different. Each credit card has its own unique sign-on bonus. These bonuses are only awarded to you if you meet a certain requirement such as spending $3,000 on your card in the first several months.
Be sure to read the fine print about your card's sign on bonus before you sign up for the card. You don't want to sign up for a credit card if you cannot realistically meet the sign-on bonus requirement.
I received both sign-on bonuses for my Chase Sapphire card and Chase Business Ink card. This gave us enough points to book all three of our flights for our family of four!
4. Continue to earn points
responsibly
After signing up for both credit cards, I made sure to continue earning points by using my cards responsibly. I personally struggle with impulse spending (read more about that here), so I always have clear boundaries when it comes to using credit cards.
An easy way that I could continue earning points throughout the year without overspending on my credit card was set all of my recurring monthly bills to be charged to my personal credit card. These include bills such as car insurance, my phone bill, Netflix, my water bill, and internet. If it's a monthly bill, then it is charged to that card.
Each week (usually on Fridays), I pay off my credit cards in full. This allows me to never carry a balance and keep my credit utilization low. I do the exact same thing when it comes to my business. I have several monthly or yearly payments that are automatically charged to my Business Ink Card. The best part about? It only took a few minutes and I'm earning credit card points without doing any extra work.
We also use our credit card for any large purchases such as the new washer and dryer that we just bought. We already had the money in savings for this purchase, so we charged it to the card, earned points, and immediately paid it off. Sure, there's an extra step when it comes to earning points, but if it means my family can fly free to another country then I'm up for it!
Travel Hacking: Your Next Steps
Ready to travel hack your next vacation? I hope so! Here are the steps you can take to get started on your travel hacking journey.
Step 1: Start planning your next vacation.
I highly recommend you start planning or dreaming about the vacation that you'd like to travel hack. Make a list of all the places you'd like to visit. Narrow the list down so you can research how many points you'd need for each trip.
Step 2: Research the "cost" in points.
It's easy to get an estimate of how many points your trip my "cost" you. Do this by going to the hotel or airline's site and start the process of booking a fake trip. Instead of looking at the cost in dollars, look at the cost in points.
Step 3: Research credit cards.
When it comes to earning points, a credit card's sign on bonus will give you the biggest bang for your buck. Be sure to compare airline credit cards, hotel cards, and credit cards that allow you to redeem points for almost anything. Click here to compare credit cards and learn about their sign-on bonuses!
Step 4: Meet the sign-on bonus requirements to start travel hacking
Once you've researched and identified which card would be best for you, sign up for it and make sure you meet the requirements to receive the sign-on bonus. Be sure to pay your credit card off in full every month so you can avoid any interest fees.
One thing I've learned when it comes to travel hacking your vacations is that it's okay to start off small. We dipped our toe into the travel hacking world with the Southwest Companion Pass. It was a great way for our family to "try out" travel hacking and see if it was right for us.
Our Canadian Vacation Itinerary
Curious to know where we went and what we did while on vacation? Here's a rundown of each day in Canada. Just a quick note: Our family loves going on hikes and spending time in nature, so this was our focus when it came to exploring what Banff National Park and Vancouver had to offer. Check out our itinerary below.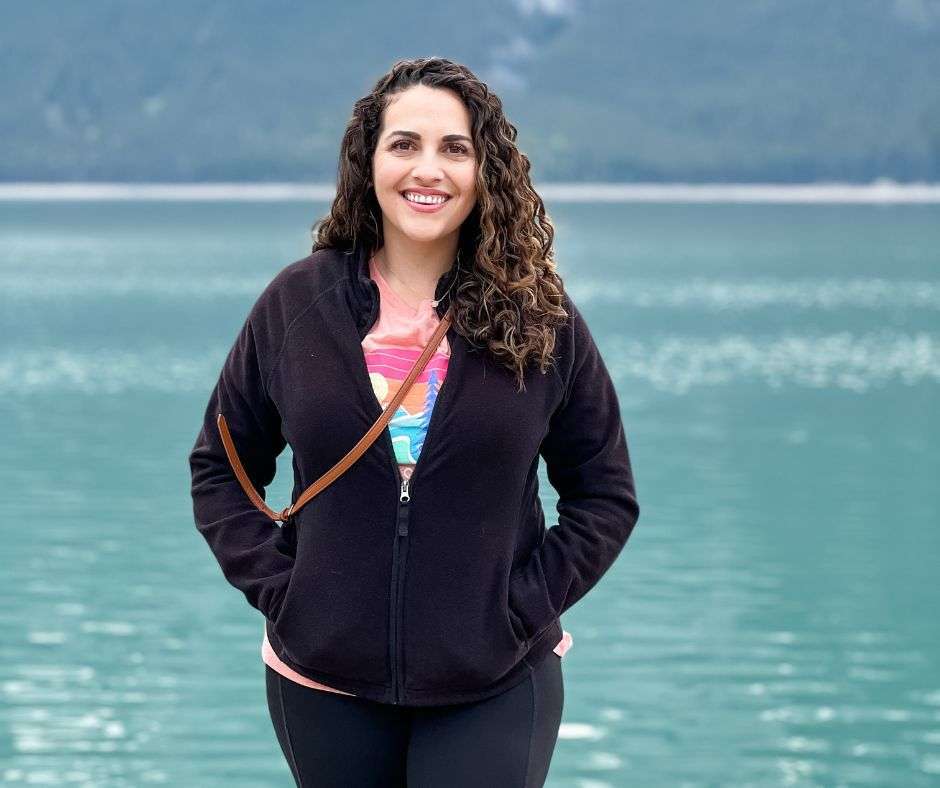 Banff, Alberta
Day 1:
We flew from Houston to Calgary in the morning and picked up our rental car. Getting our rental was super quick and easy! We then had to drive a little over an hour to Canmore which is a city right outside of Banff National Park.
Late Lunch: Rocky Mountain Flatbread Pizza – we loved this cute little restaurant!
After our late lunch we headed to the grocery store and picked up food for breakfast and one dinner. We were thankful to have a condo with a full kitchen which allowed us to eat some meals at "home."
Day 2:
Breakfast: We enjoyed breakfast at Craig's Way Station in Canmore. It was absolutely delicious and I even met a follower – Hi Michelle!
Hike: We wanted to hike Grassi Lakes Trail in Canmore, but unfortunately the trail was closed for upgrades and maintenance. Instead we drove to Lake Minnewanka in Banff National Park and enjoyed the views of this gorgeous lake. We also hiked the Stewart Canyon Trail while we were in the area.
After our hike we drove into Banff (the city) and visited Bow Falls. You can hike to these falls or park directly next to them. With younger kids (10 and 7), we decided to limit our hikes to only one each day so we parked right next to the falls.
We then spent time exploring downtown Banff and had the most delicious lunch at Park Distillery Restaurant and Bar. This wasn't a cheap meal by any means, but the food, view, and service was incredible!
After lunch we visited the famous Fairmont Banff Springs hotel where we found a secret bookcase door in their bar area. The weather was beautiful and the hotel was gorgeous. I told my husband that one day I want to stay at this hotel. Who knows…maybe we will travel hack our trip back to Banff!
After spending time exploring the hotel we walked around downtown Banff and picked up a few souvenirs. We then headed back to the condo, made dinner, and went swimming in the heated pool.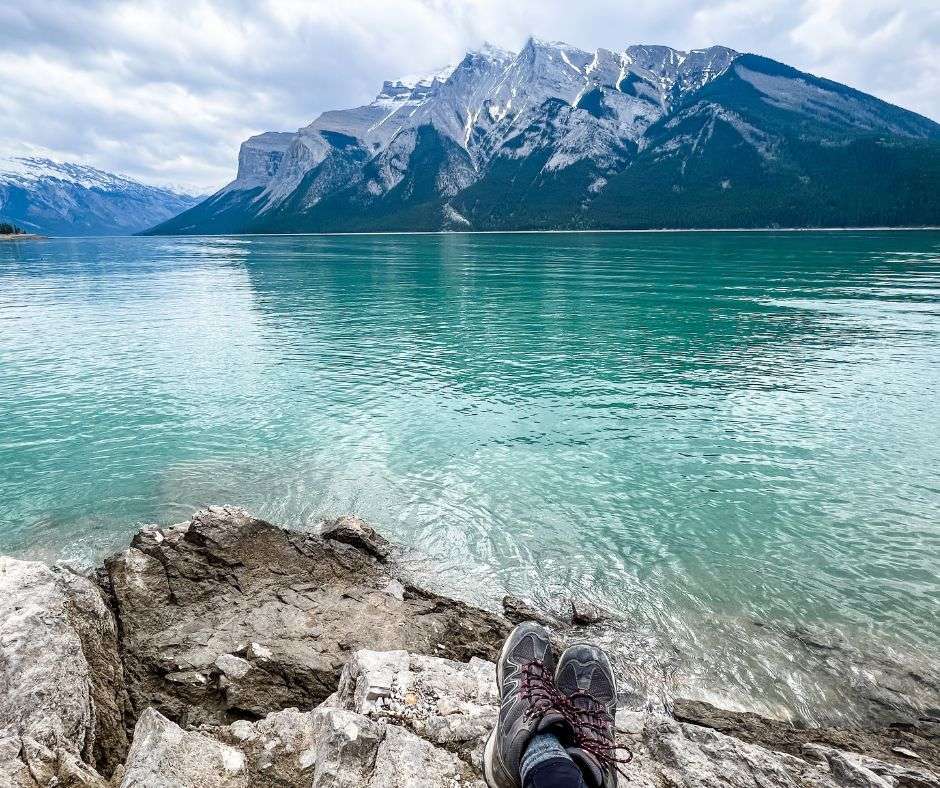 Day 3:
We made an early breakfast at the condo and then headed to the Lake Louise shuttle. I recommend buying your shuttle tickets in advance. The Lake Louise and Moraine Lake parking lot is small, so instead of taking a risk and possibly not getting a parking spot, we spent the $26 to ride a shuttle to both lakes.
Lake Louise – this was by far the most beautiful lake that we saw on vacation. The views are stunning and the water is a crystal turquoise color. This is a glacier fed lake (along with many others in the area). The color comes from the glacier scraping the mountain rock and silt entering the lake. The silt reflects the sun and causes this lake to be a striking turquoise color. Out of all the places I wanted to visit, Lake Louise was top on my list!
Hike: Our hike for the day was a moderate 2.2 miles one way uphill to Lake Agnes Tea House. This was by far my favorite hike I've ever done. Not only did we enjoy snow on the ground at the top of the hike (snow is a big deal for these Texans), but we had tea inside the famous Lake Agnes Tea House. This Tea House is family run and has no electricity or running water. It was built in 1901 and the only way to access it is to hike the 2.2 miles to the top! We enjoyed homemade biscuits, cookies, soup, and tea!
After hiking down another 2.2 miles (which is much faster than hiking to the top), we hopped on the shuttle to Moraine Lake. This is another glacier-fed lake with a brilliant blue-green color. Matt and my kids climbed a tall rock pile while I sat back and enjoyed the view. We skipped rocks, enjoyed the scene, and let the kids just be kids.
Dinner: By the end of the day we were exhausted. We had dinner at The Grizzly Paw in Canmore which was right near our condo. This pub was amazing and my husband enjoyed a beer flight (his favorite)!  
Day 4:
We spent our fourth day driving the Icefields Parkway in Banff National Park. This is a 232 km stretch of highway that winds along the Continental divide in the Rocky Mountains. We stopped at many places along the way. I highly recommend reading about the places you want to stop before heading on this drive. Here's where we stopped:
Peyto Lake: We hiked a short distance (1.5 mile loop) to this stunning lake! It's very popular and busy, but worth the stop!
Mistaya Canyon: This 1.1 mile loop was easy and led us to a beautiful canyon with a raging river running through it. I'm not going to lie…I was incredibly anxious with my children getting close to the canyon edge!
Weeping Wall: This was a set of waterfalls along a 1,000 high cliff. In the winter the waterfalls freeze and apparently it's beautiful!
Bridal Veil Falls: These falls aren't easy to see, but the overlook is stunning!
Glacier at Jasper National Park: right before you enter Jasper National Park, stop and see the massive glacier on display!
Waterfowl Lakes: On our way back we stopped by these beautiful lakes! Our kids skipped rocks and we enjoyed the views.
We ended up seeing 6 bears while on our drive through the Icefield Parkway! Thankfully we were in our car each time so we could safely watch them graze on flowers from the safety of our car.
**TIP: If you have kids, I highly recommend you bring a few books with you on this drive. We didn't want them to have their iPads because then they would zone out completely. Books were perfect when it came to keep them from fighting and pulling them away frequently to check out new areas.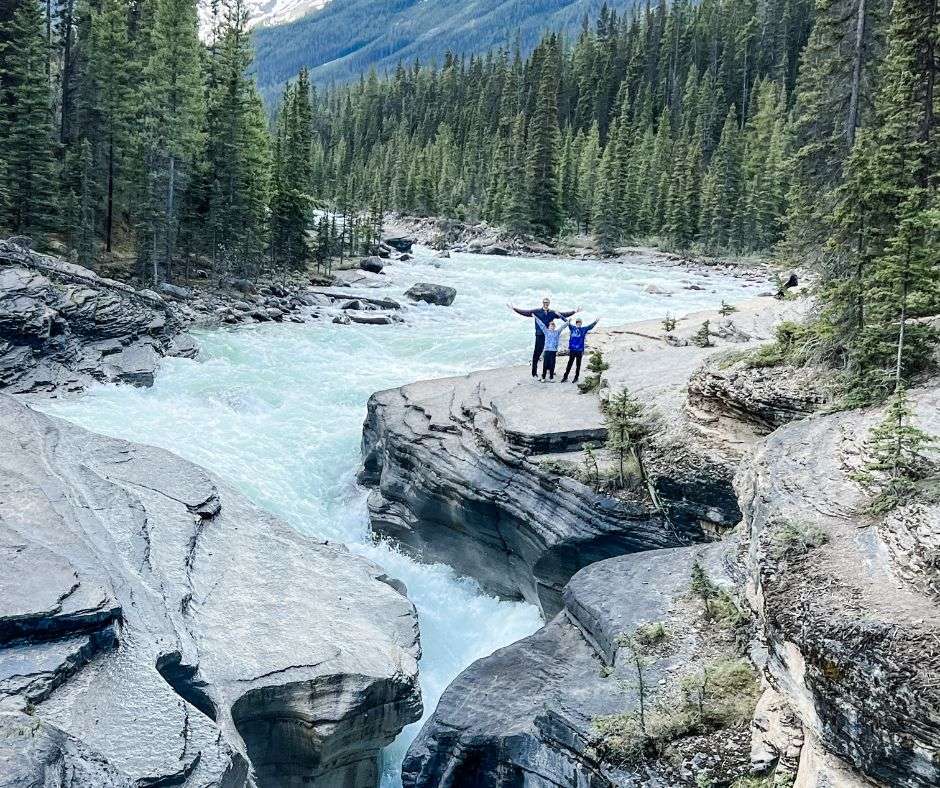 Day 5:
We enjoyed breakfast in our condo then hit up a small bookstore in Canmore. Both of my boys had finished their books the day before so they each picked out two new books.
Instead of going on a hike on our final day, we decided to check out Elevation Place in Canmore. This center has rock climbing, an indoor pool, fitness center, and coffee shop inside! We all enjoyed rock climbing, took a break for lunch, and then Matt and the boys swam while I did a little work.
We went to bed early because we had a 6:30am flight the next day!
Vancouver, British Colombia
Day 6:
We had an early morning flight from Calgary to Vancouver. We decided to only use public transportation while in Vancouver, so we took the train from the airport to our hotel in the downtown area.
Hotel: We used credit card points to book three nights at the Pan Pacific Vancouver. Thankfully, they allowed us to check in early and we took a short nap before heading out on our adventures for the day.
Granville Island: We took a bus to Granville Island where we walked through the incredible public market and enjoyed seafood for lunch. We all enjoyed the market and surrounding area.
Whale Watching: This was by far the most expensive part of our family trip. We signed up for a 5-hour whale watching tour with Prince of Whales. We saw a family of orcas, seals, sea lions, and even a bald eagle. It was an incredible experience!
Dinner: Tony's Fish and Oyster Café in Granville Market. Their food was delicious!
Day 7:
We had breakfast at a delicious café, but I can't remember the name. Then, we walked to Stanley Park.
We hiked through Stanley Park which is a temperate rainforest right in the downtown Vancouver area. We enjoyed time on the beach and had lunch in the park.
The weather called for rain, so we planned a trip to the Vancouver Aquarium. They have limited capacity, so I recommend booking your tickets in advance like we did.
After spending several hours at the aquarium we walked over to the famous totem polls in Stanley park. From there we took a Lyft back to our hotel.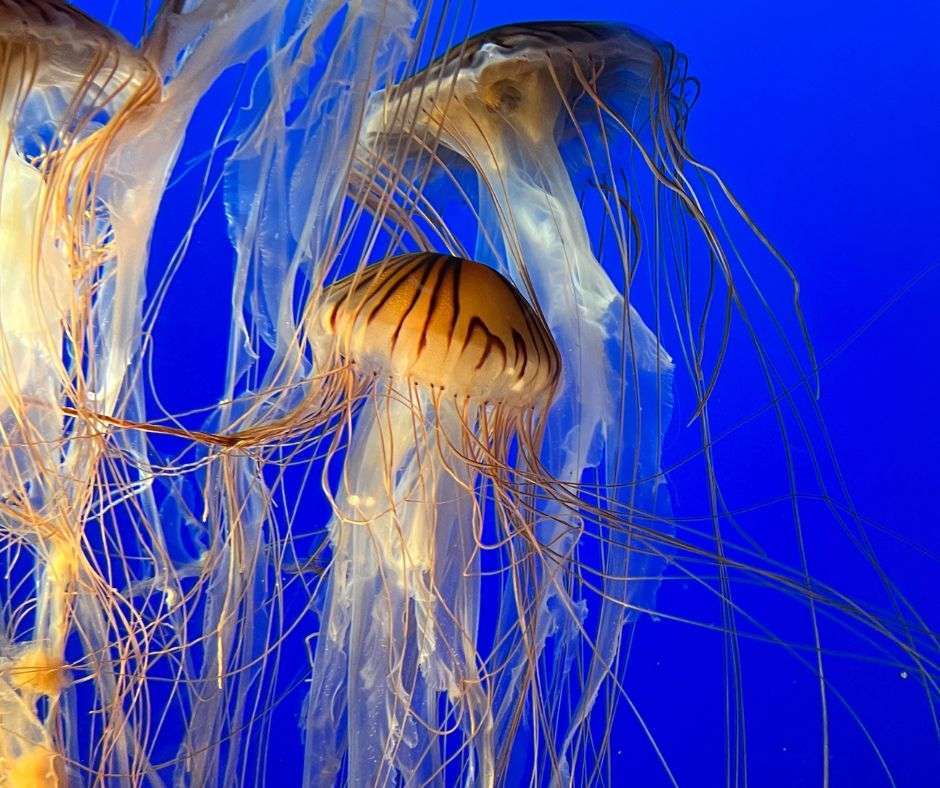 Day 8:
This was our final full day on vacation and the most beautiful day in Vancouver!
We took a free shuttle from downtown to Capilano Suspension Bridge Park. This 30-acre park is in a temperate forest and has 7 suspended footbridges. My kids loved it! We explored the park, walked along the tree canopy, and enjoyed lunch in the park. We spent most of our day at the park and headed back for dinner near our hotel.
After dinner we swam and packed up for our flight back home the next day.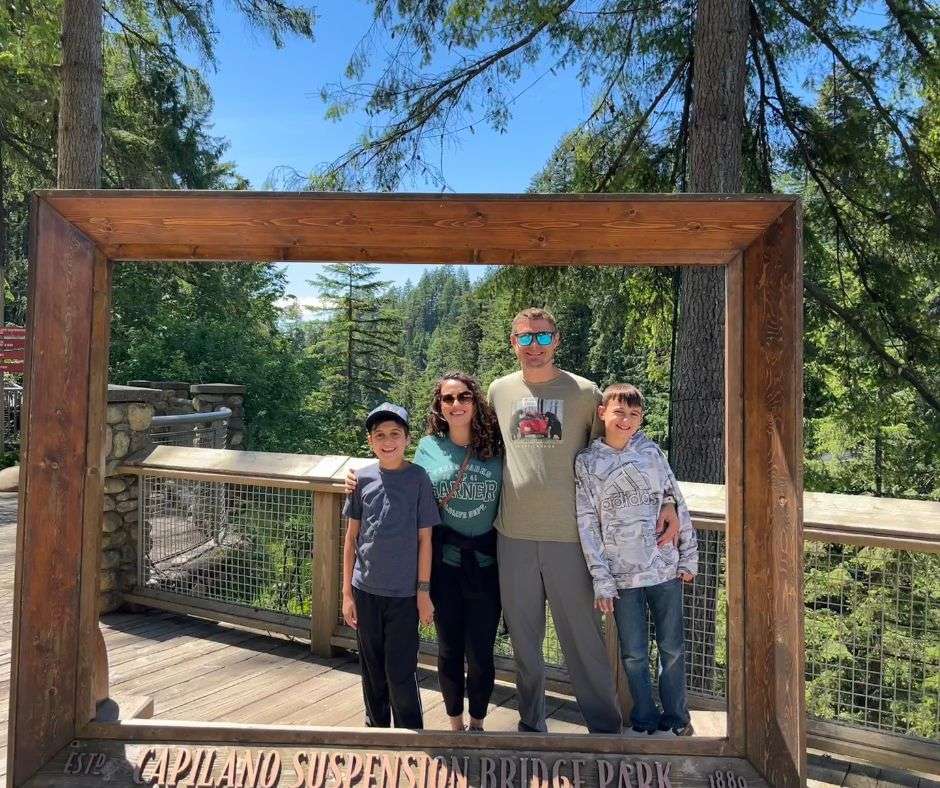 According to my kids, this was their second favorite vacation we've ever taken (#1 was Disney World). It allowed us to enjoy just a small percentage of the beauty that Canada has to offer. It also taught us that our kids prefer vacations that center around nature!
Travel Hacking Our Next Vacation
You better believe that my husband and I are already planning our vacation for next summer. In fact, we are currently researching the credit card that my husband will sign up for next. Our goal is to narrow down where we want to go as a family (my kids are voting for Hawaii!) and start planning how we will get there. I'm hoping that between the points I still have available and the points my husband gets, we will be able to fly for free and maybe even cover part of our accommodations. Once we know where we are headed, we will set aside money each month in a separate savings account to cover the rest of the trip. This way when the trip rolls around, the money is already saved!
Travel hacking doesn't have to be intimidating. With the right steps, you can travel hack your next vacation too! What questions do you have about travel hacking? Leave me a comment and I'll try to answer it.