I'll never forget the first time my friend told me about Rakuten (formerly Ebates). She said, "You earn money for making your normal online purchases!" I immediately thought it sounded like a scam. I mean, what company is going to give me free money just for clicking on their website before I buy something online?! You'll be happy to know that the joke was on me.
With Rakuten you actually earn money for making online or even in-store purchases. YES! They will send a check straight to your mailbox (or my favorite… your PayPal account) just because you clicked through Rakuten before you buy something.
I know what you're thinking. This must be a joke. But I can hands-down promise you that it's 100% legit (I know because I've earned hundreds so far from using Rakuten).
Let's dive into how Rakuten (formerly Ebates) works, if it's really worth it, and how to maximize the money you earn!
To get started, you'll have to sign up for Rakuten. You can do that HERE. Want to know something super cool? Once you make your first purchase through Rakuten, they're going to give you a $10 gift card. How great is that? It's literally FREE money.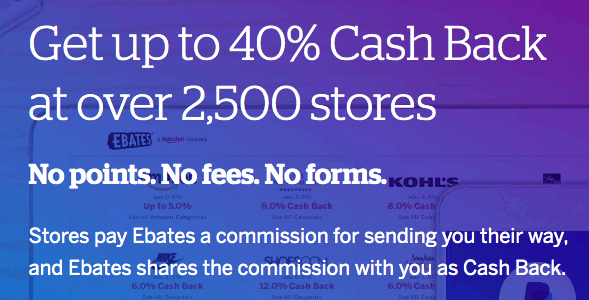 Rakuten is a site where you can earn cash back at over 2,500 online stores. They have large stores such as Target, Kohl's, Walmart, Amazon, and many more! All you have to do is log in to your Rakuten account and click through the store you want to shop. Rakuten will send you directly to the store's website and you shop and checkout like normal!
Once you've made your purchase, Rakuten is notified from the store and they add money to your account. Then, every 3 months you're sent a check for all your earnings!
It's crazy easy to use and I'm not going to lie…it feels like Christmas morning when your check arrives. I love using the extra money to treat myself or even buy my kids much-needed clothes or shoes!
3 Ways to maximize the money you earn.
Once you realize how glorious Rakuten is, you'll want to make sure you maximize the money that you earn. Here are 3 things you need to start doing now to see your earnings skyrocket!
What's great about this button is that you don't have to go through Rakuten's website first. Instead, the button will let you know if there is cash back available at a store you are shopping. Also, it will automatically apply any coupons at checkout. It's like having your own personal shopping assistant who helps you find the best deal!
2. Get the Rakuten app.
Rakuten now has an app that gives you the freedom to easily earn cash back. When you're ready to buy something online, simply go through the app first! What's great is that they even have exclusive offers app users. This means that you'll get the best of the best that Rakuten can give you! For instance, you can earn cash back for Lyft rides (I'm totally using this the next time I need to get a ride from the airport to a conference). Plus, you can manage your entire account through the app.
3. Refer your friends and family to earn $25.
Rakuten (formerly Ebates) will pay you to share how awesome they are! This is by far my favorite way to earn money because it literally costs you nothing! Just by sharing Rakuten with your friends and family, they will get a $10 gift card and Rakuten will thank you by adding $25 to your account. Say it with me…EVERYONE WINS!!! I can tell you that not many companies have this incredible perk.
How will you get paid?
Rakuten pays out every three months. This gives you time to rack up some extra money! They will either send you a physical check or deposit money directly into your PayPal account. Either way, you're getting the money that you earned!
Are you ready to earn extra money?!
Here's my most important question for you: What are you going to do with the extra money that you earn? I plan to take a kid-free vacation to Target. That's right. I'll walk slowly down the aisles without anyone whining or asking for a toy. I'll sip my grande vanilla latte in peace while petting all the throw pillows and picture frames. Won't you join me?!
Don't hesitate…sign up today to start earning extra money. Plus, you'll get a $10 gift card after you make your first purchase!