I'll never forget the first time I ever moved after college. I was headed to my first "real job" as a third grade teacher. I enlisted the help of my mom and dad to load up a trailer with my measly possessions and Ikea furniture. The week before I headed off across the state I asked my brother if he would come help me move. I'll never forget his response.
"Nah, you'll be good because your company will pay for your movers."
My mouth dropped open. Ummmmmm NO SIR. I was an elementary school teacher working in a title 1 school. Did he really think that my "company" was going to fork out thousands of dollars to relocate me?  
Turns out he was 100% serious. As a mechanical engineer, the major company he worked for gave him a HUGE moving allowance when he had to relocate. It was enough money to pay people to pack up and move his things. 
I'm not even going to pretend like I wasn't totally jealous of him. But the truth is that when people have to move, chances are their job is not helping foot the bill.  Because we have recent experience in moving (there are boxes that need to be unpacked in the room next to me) I knew I had to find a way to move on a BUDGET.
I'm sharing 5 ways to move on a budget as well as the exact amount we spent on our recent move!
5 Ways To Save Money On Your Next Move
1. Do it yourself.
I'll admit that I didn't want take on this move ourselves. I was ready and willing to hire someone to load all our possessions up in a truck and drive it 5 hours south. But after looking over how much that would cost, it was an easy decision to rent the truck ourselves. If you feel comfortable with driving a big moving truck, then do it! This is where you will save the most when it comes to moving expenses! 
2. Ask high school kids to help load the truck.
Do you remember how in your early 20's you could easily find friends to help you move? All you needed was to promise them pizza! Well, it's not as easy when you're in your 30's. People have full-time jobs and pizza isn't a motivator anymore. Instead, seek help from high school kids that are willing to work for extra cash! We did this and it was a lifesaver! Even just one extra pair of hands was a great help!
3. Don't pay for boxes!
We did not pay for ONE box when we moved. Instead, we hit up friends and our workplace for boxes. Afterwards, we drove around to wine and liquor stores asking for their extra boxes too. I mean, if you think about it, these types of stores have a LOT of strong boxes. You could also check out your local grocery store for extra boxes. This will save you a fortune because boxes are EXPENSIVE.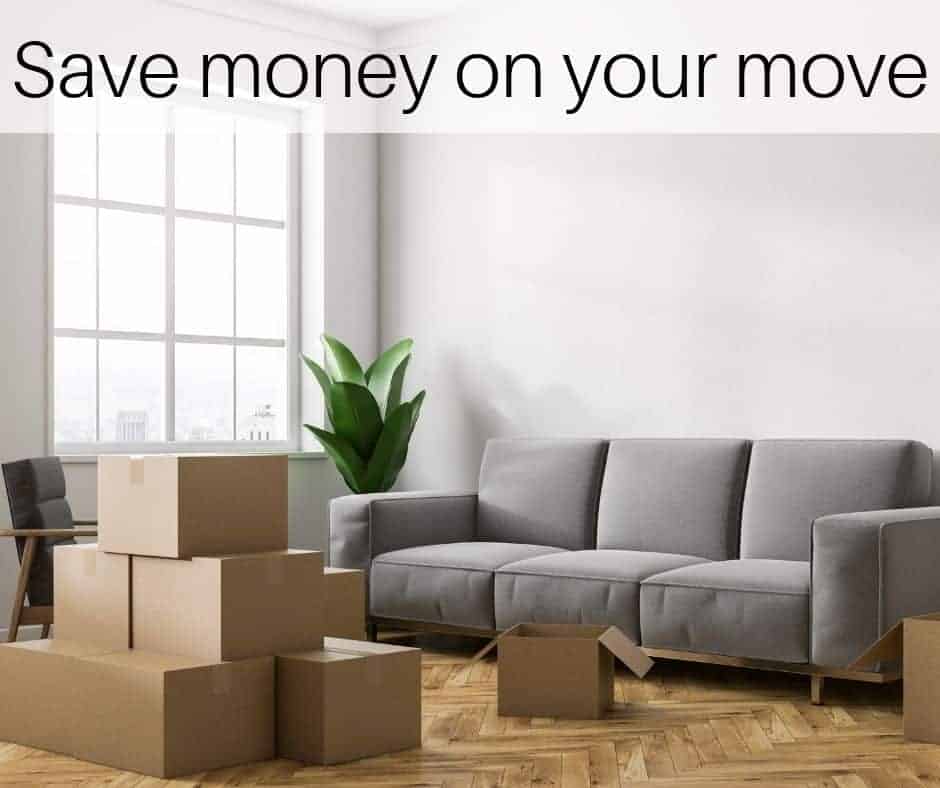 4. Shop around.
If you're 100% sure that you want to hire movers, then make sure to shop around! You'll be surprised how prices can vary from each company. You can even hire people to load and unload your truck. When we were moving into our new home, we didn't know anyone that could help us. So we paid $250 for three movers for a total of 3 hours. During that time they completely unloaded our truck and even assembled all our furniture for us! I was quoted higher prices with other companies, so be sure to do some research. It will pay off in the long run!
5. Skip the bubble wrap and extra supplies.
I wish we had skipped out on buying bubble wrap during this last move. When packing up our kitchen, we wrapped some breakables in bubble wrap and others in towels. Let me tell you that everything arrived safely and NOTHING broke! I wish now that I had saved the money on bubble wrap and used all my blankets, sheets, and towels to wrap breakables. It's a great way to save money!
How Much We Spent On Our Move (the exact numbers!)
I know that sometimes it can be fun to dig into someone's finances (or is it just me that feels this way?) so I thought I'd share exactly how much we spent on our big move across the state.
We moved from Denton, Texas (near Dallas/Fort Worth) to Katy, Texas (near Houston). We decided to rent our own moving truck. After pricing out several different options, we found that a Penske truck was the best deal! I'm so serious when I say that it pays to get price comparisons! Some companies were over $100 more expensive and that money ADDS UP!
Okay, on to the details! You'll see below exactly what we spent to move!
Moving Truck (included a dolly and furniture pads): $365.73
Gas for moving truck: about $70.00
Supplies (bubble wrap, tape, plastic wrap for furniture ): $73
High School Helper: $30
Movers to help unload the truck: $250 + $40 (tips)
Ratchet Straps and Bungee cords: $27
Total Spent: $855.73
What Worked
Before our big move, we sold a LOT of stuff that we no longer wanted. Just like any family, we had acquired a lot of stuff over time. While we were packing, we decided to donate, sell, or toss a bunch of junk that we no longer used or needed. To be honest, it was very freeing to be able to say goodbye to things that took up space in our home. I used the money from selling items around our home to help pay for the movers! I put the rest of the money toward a big Target run once we were moved in. While in the Motherland (Target, that is) I grabbed new trashcans for all the bathrooms, bathroom rugs, and a few other essentials.
What Didn't Work
When we first announced that we were moving, my husband was sure that we didn't need to hire any help. He figured that between the two of us and a dolly that we would be perfectly okay. Boy, was he wrong. We had help loading up and there were pieces of furniture (I'm looking at you pull-out sofa!) that were crazy heavy! There's NO way that he and I would have been able to get some of the furniture off that truck. I called up movers on the drive down and was able to score a great deal at the last minute. Best $250 ever spent!
I'll be the first to admit that this move wasn't cheap! But I can guarantee you that it could have been much more expensive if we had decided to hire movers to transport all our stuff from one city to the next.  And maybe, just maybe we will have a company that will give us a moving allowance one day. Here's hoping you too can move on a budget!
You Might Like: