This post is sponsored by Spruce. All opinions are 100% my own.
If you currently have debt, you know firsthand that paying off debt isn't always easy. It requires focus, determination, and the ability to prioritize your future over the present moment. Which, let's face it, isn't always straightforward or fun.
My husband and I paid off over $111,000 of debt on two teacher salaries. During our 4-year journey, we learned different hacks to help us pay off debt faster and stay motivated along the way. These money hacks made a huge difference years ago and we still use them to reach our money goals to this day.
In this article I'll be sharing 4 money hacks that will help you pay off debt and how Spruce can help you feel more confident and organized with your money.
Money Hack #1: Set up sinking funds.
Paying off debt can be an emotional experience and can even feel like a rollercoaster at times. It's easy to become discouraged when you're caught off guard by an unexpected expense. Sometimes these surprise expenses can even lead you further into debt.
To keep you moving forward on your debt free journey, it's important to set up sinking funds to cover any unexpected costs that might come up along the way. By adding sinking funds to your budget each month, you're making saving money a habit in your life. This essential habit can keep you from relying on debt or credit cards while you're working to become debt free.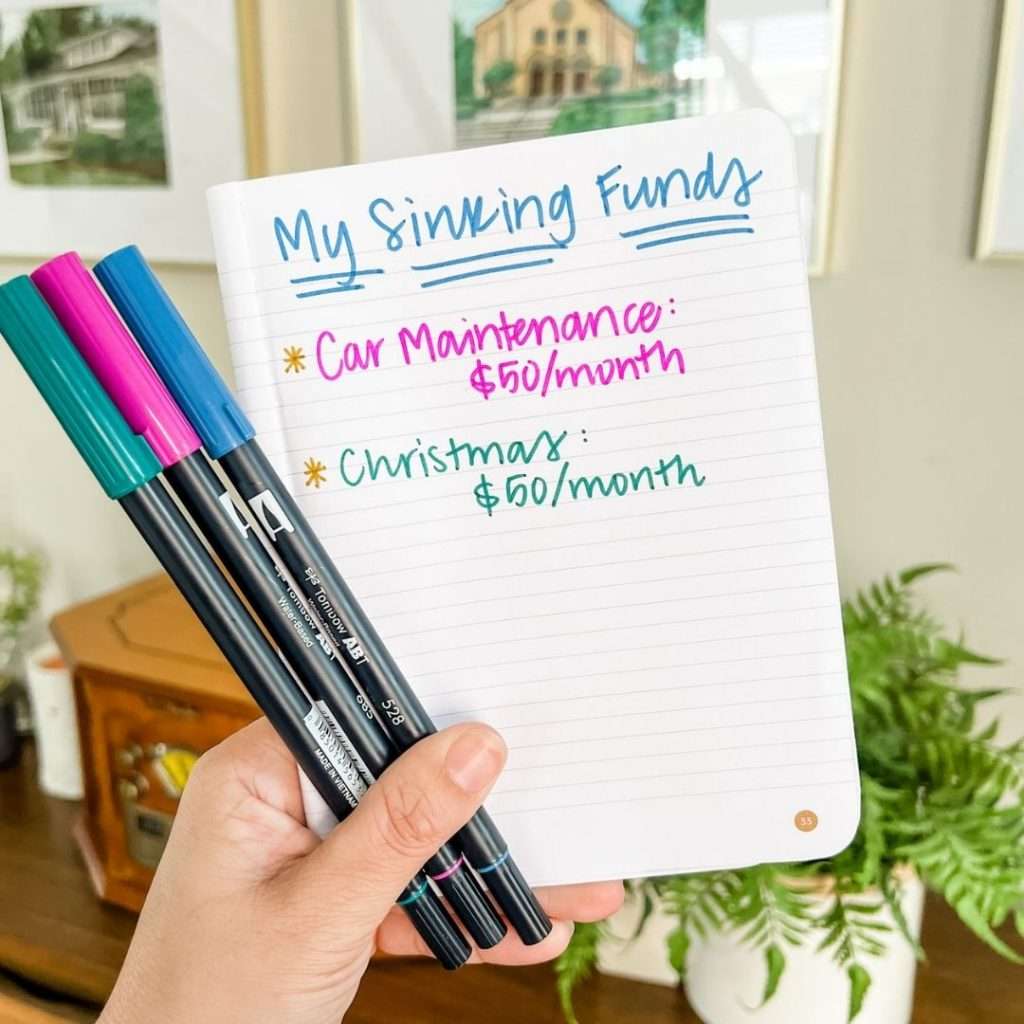 For instance, while our family was working to pay off debt, we set up a sinking fund for car maintenance. This sinking fund was essentially a separate savings account where we would set aside money every single month. Whenever our car needed new tires or an oil change, we were able to use our car maintenance sinking fund to help cover the cost of the expense. This kept us from putting any extra money on our credit card or going further into debt on our debt free journey.
It's important to have an account that makes saving money for sinking funds simple and straightforward. Spruce does just this! With Spruce, you can automatically save money for emergencies in a Savings Account plus up to two additional savings goals, or sinking funds. I personally love that Spruce has a chart to help you know how much money you need to set aside each month to turn your goal into a reality. Click here to learn more about how Spruce makes saving money easy.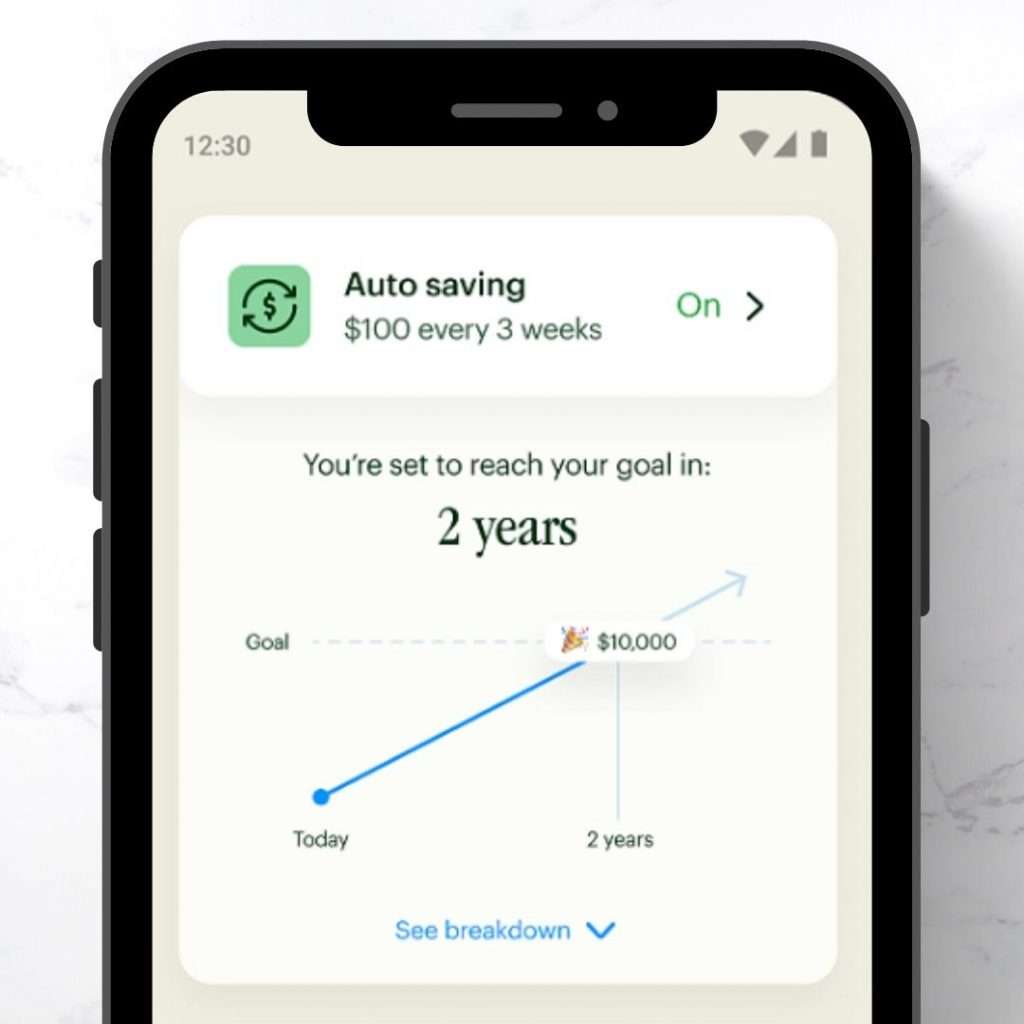 Money Hack #2: Send extra money to debt right away.
I don't know about you, but if I have any extra money sitting in my checking account, I can always find a reason to spend it. While my husband and I paid off debt, we learned that if we sent money to debt right away, we were more likely to make progress on our debt free journey.
Here's exactly how to send extra money to debt right away:
Write a budget for your pay period. Include any bills and variable expenses.
Include a buffer in your budget to help cover any miscellaneous spending that might occur during the pay period.
Immediately send any leftover money straight to the debt you are focusing on at the time. This allows you to quickly pay off debt and stay on track with your budget.
My husband and I were focused on sending extra money to debt right away because we knew if we left extra money sitting in our checking account, the chances of us spending the money impulsively were high.
This simple money hack, paying off debt right away, made a lasting difference on our debt free journey.
Money Hack #3: Cut out unnecessary monthly fees.
When our family first started budgeting and paying off debt, we realized that for six months we had been paying for a gym membership that we weren't even using! At $60 a month, this unnecessary monthly fee added up fast!
This realization forced us to take a long look at our monthly expenses. We immediately cut out any monthly fees that we found were unnecessary in our lives.
Learn from our mistake and take time to cut out any monthly fees that aren't serving you.
One unnecessary monthly fee that you might be paying includes hidden account fees that add up over time. These can include monthly fees, sign up fees, or even minimum balance fees. Switching to an account that has no monthly fees is the perfect example of a money saving hack that you'll do once but reap the rewards month in and month out.
When it comes to monthly fees, Spruce is transparent. They have no monthly fees or sign up fees2, which means you can focus on sending your money to what really matters: your financial goals.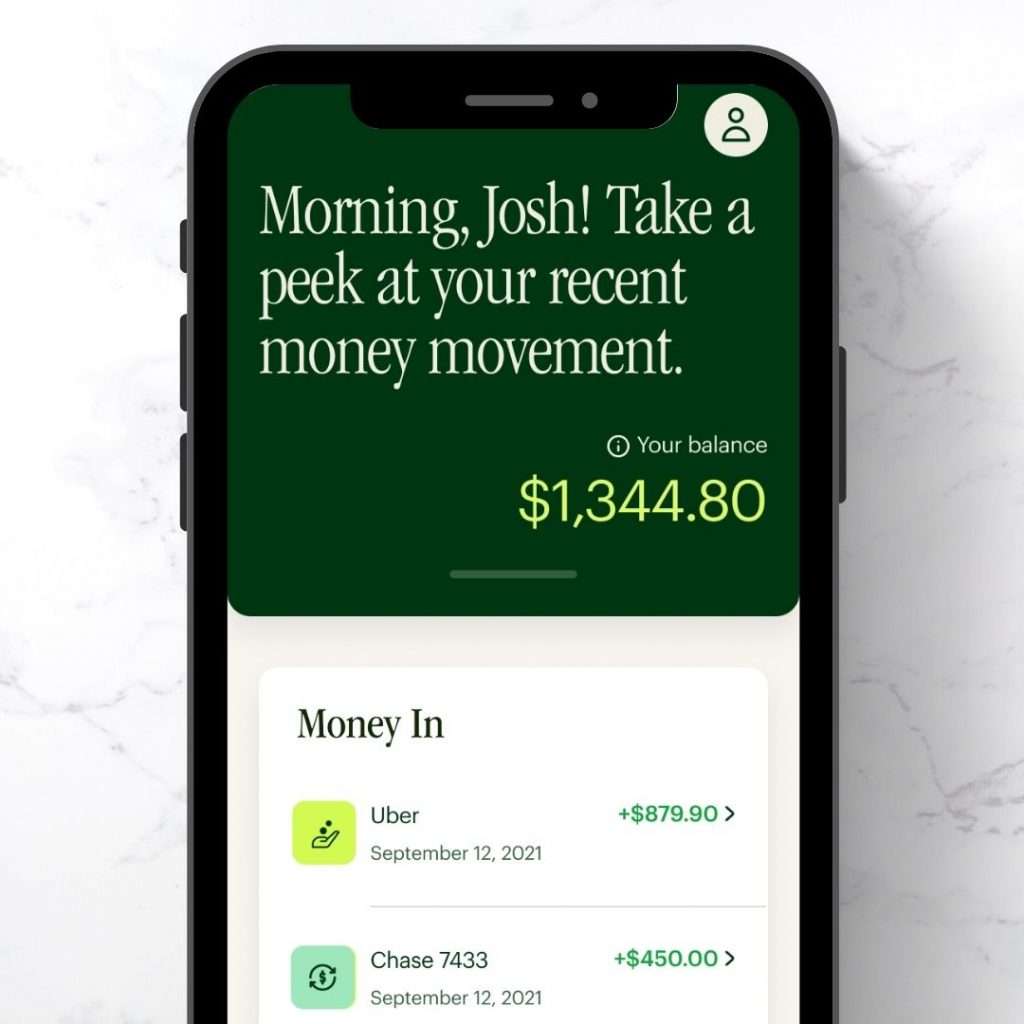 Money Hack #4: Include spending money in your budget.
Years ago, my husband and I decided that our financial focus would be paying off debt as fast as possible. Before we knew it, we had cut out every extra expense in our budget…including spending money.
Matt and I soon learned that this was a terrible idea. Within two months, I felt so strapped and frustrated with our budget. Before I knew it, I was walking into my favorite store and filling the shopping cart to the brim with anything that brought me joy.
My little shopping trip was the result of living on a budget that was completely unrealistic. We learned that day that if we wanted to work on paying off debt for the long haul, we would have to include spending money in our budget.
Including spending money in your budget while paying off debt might sound counter intuitive, but it's not! When you set aside money to spend on whatever you want, you are setting a boundary for your money. This allows you to spend money guilt-free while still working toward your financial goals.
Ultimately, allowing room in your budget for spending takes your original budget and turns it into a realistic budget. The more realistic your budget, the more likely you are to actually stick to it. Creating a budget you can stick to directly impacts your debt payoff goals and can help you pay off debt faster.
Spruce can help you become financially confident.
As I started to pay off debt many years ago, I realized I lacked the confidence I needed to see that I could turn my debt free dream into a reality. It took me time to become more confident with my money. That confidence came from understanding my money inside and out. It came from being organized with my money when I never had been before.
One reason I love Spruce is that its goal is to provide tools that could help you be more organized and confident when it comes to your money. This can have a direct impact on your debt free journey.
Here are 3 ways that Spruce makes managing your money easier:
Spruce offers savings goals which allows you to be specific and intentional when it comes to saving money. You even have the option to set up automatic transfers from your spending account to your saving goals which helps build better money habits.
Spruce offers automatic cash back1 at select retailers. With Spruce, you'll get cash back rewards when you shop from select retailers that you know and love. This money is automatically deposited into your Spruce extra savings account!
Get paid sooner! When you set up direct deposit with Spruce, you could get paid up to two days earlier3. You work hard for your money, so why not get it as soon as possible?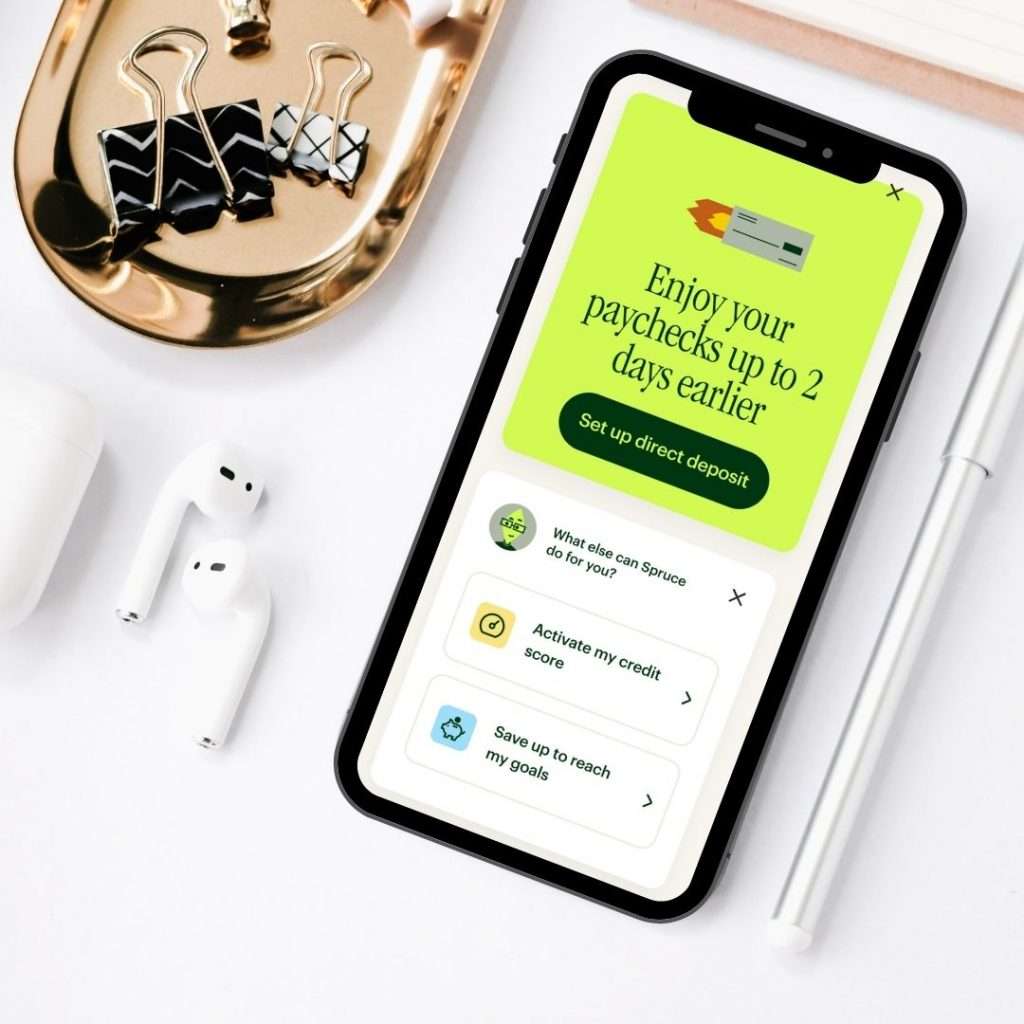 When it comes to understanding your money and your finances, Spruce is on your side. Click here to learn more about Spruce.
Paying Off Debt: The Bottom Line
The more aware we are of our habits and money, the easier it becomes to pay off debt and create a strong financial foundation. All it takes is understanding your money better, focusing on your goals, and signing up for Spruce which helps you get better with money.
Spruce is a great option for anyone who wants to pay off debt, earn cash back, and save money. Click here to give Spruce a try!
Spruce is a financial technology platform built by H&R Block, which is not a bank. Banking products provided by MetaBank®, N.A., Member FDIC.
Disclaimers
Spruce℠ Spending and Savings Accounts are established at, and the Spruce debit card is issued by, MetaBank®, N.A., Member FDIC, pursuant to license by Mastercard International Incorporated. Mastercard® and the circles design are registered trademarks of Mastercard International Incorporated.
1Spruce Rewards are powered by Dosh. Cash back offers and amounts may vary by user, merchant location and offer period. Check the Spruce app for offer availability. Cash back earned by qualifying purchases will be deposited in your Spruce Savings Account. See Spruce Rewards powered by Dosh Terms for details.
2Other fees apply for certain uses of your Spruce debit card and accounts. See www.SpruceMoney.com/fees for details.

3Early access to funds depends on the timing of the payer's submission of the payment. These funds are generally made available to you the day the payment instruction is received, which may be up to 2 days earlier than the payer's scheduled payment date. To be eligible, you must receive $200 in direct deposits over the relevant 35-day period, not including tax refunds.